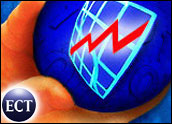 InfoSpace (Nasdaq: INSP) gained 11/64to 11 43/64 Wednesday after the company, which provides Internetinfrastructure services, reiterated its fourth-quarter forecast calling forrevenue of US$66 million and pro forma net income of $4.9 million.
"InfoSpace continues to experience momentum across all of our areas offocus, and we remain very confident with the financial guidance we havepreviously provided," said chief executive officer Arun Sarin.
Bellevue, Washington-based InfoSpace provides merchant and consumer Internetservices on wireless, broadband, and narrowband platforms. The company'saffiliate network covers more than 3,200 Web sites, including America Online,Microsoft, Disney's Go network and Lycos.
During the past two months, Sarin said, InfoSpace has establishedpartnerships or launched service offerings with CingularWireless, ALLTEL, Cincinnati Bell, Powertel, OmniSky, Lucent Technologies,Compaq and Microsoft.
InfoSpace's confidence in its fourth-quarter results comes as other Internetand technology-related companies warn of shortfalls in revenue and earnings.Compaq Computer Corp. on Tuesday warned that its results would fall belowprevious expectations because of slow sales of personal computers in theUnited States.
The company's bullish forecast comes two days after Merrill Lynch analystHenry Blodget downgraded InfoSpace's near-term rating to accumulate frombuy.
In the third quarter, InfoSpace saw revenue rise 189 percent from a yearearlier to $57.7 million, as pro forma net income totaled $9.5 million. Theresults included the operations of Go2Net, which the company acquired in October.
The company said it had $425 million in cash and short-term securities onhand at the end of the quarter, with no short- or long-term debt.