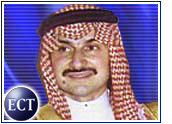 At the beginning of the summer, billionaire Saudi prince Alwaleed bin Talal jumped into the Internet stock game with a king-size splash.
On May 16th, the 43 year-old prince purchased a $50 million (US$) stake in each of six companies: Amazon (Nasdaq: AMZN), eBay (Nasdaq: EBAY), DoubleClick (Nasdaq: DCLK), Infospace (Nasdaq: INSP), Internet Capital Group (Nasdaq NM: ICGE) and Priceline.com (Nasdaq NM: PCLN).
The prince reportedly studied more than 100 firms before choosing his "basket of Internet companies." However, as summer's end approaches, about half of his $300 million investment has been lost.
The prince bought into the six Web-related stocks for an average price of approximately $67, but as of the closing bell on August 28th, the stocks averaged only $36.
The Amazon Plunge
Amazon.com was trading at around $59 in mid-May, but closed at just over $39 on August 28th.
The e-tail giant had a rocky couple of months as it faced more than one negative analyst report. In June, Lehman Brothers analyst Ravi Suria issued a report saying that Amazon's recognizable brand name was not doing enough to stem a string of steady losses. The shares promptly sank, on fears that the company might run out of cash.
In early August, another analyst's underperform rating sent Amazon's shares down again.
Amazon chief executive Jeff Bezos, however, has expressed trust in his company's ability to eventually turn a profit, citing annual sales of over $1 billion and a customer base of more than 20 million. As the company celebrated five years in business in July, the Web site was logging an estimated 100 orders per minute.
The company beat analysts' second quarter bottom-line estimates by two cents per share in July, and its book and video sales division finally did report a profit.
The eBay Bid
eBay shares fell over the summer from $135 to $63. Still, it has been a good summer for the online auctioneer.
In July, eBay reported stronger than expected results for the second quarter. Company revenue rose 97 percent, and the number of people using the online service also grew. However, the stock took a short fall in early August after Henry Blodget, the influential Merrill Lynch analyst, lowered his rating.
The auction titan also faced technical glitches in early August that did little to increase confidence.
Up and Down with DoubleClick
The princely choice for an ad agency investment was DoubleClick. However, after bouncing back somewhat from a firestorm of criticism over privacy issues, the New York-based company's stock price has settled at around $39.
The agency, which was trading at about $60 in mid-May, fell hard on negative analyst reports in June and July.
Like eBay, DoubleClick faced technical glitches. On August 18th, DoubleClick's servers either failed to deliver its banner ads or delivered them slowly as Web surfers across the United States faced error messages.
Losing Ground with Infospace
The prince apparently saw long-term potential with Internet infrastructure company InfoSpace. However, the summer saw the price fall from $60 to $28.
All the same, Infospace is moving ahead with new alliances that are likely to position it for growth. On Monday, the company announced that it inked a deal with govWorks to provide government payment-processing for bills, income taxes and business license renewals.
Infospace is also developing new mobile commerce technologies that will allow merchants to offer variable pricing.
Investing with Internet Capital Group
The prince's venture capital choice was Internet Capital Group, Inc., which fell from approximately $35 to $23 over the summer.
Considered a viable contender by many observers, ICG recently opened a corporate office in Tokyo. Also, on Monday the firm announced $117 million in private placement financing for ICG Commerce, an e-procurement services provider.
Facing the Bottom Line with Priceline
The last of the prince's six picks, Priceline.com, fell from $54 to $26 over the summer.
Still, the company announced in July that its second-quarter loss narrowed to a penny per share, as revenues topped $352 million. The name-your-own-price e-tailer is also making aggressive forays into Japan and Europe that could help reverse the slide.
About the Prince
Prince Alwaleed is currently the sixth richest individual in the world with $15 billion, a fortune he created from well-timed investments of his inheritance. Alwaleed invested in Citicorp in 1991, giving the company a sorely needed cash infusion of $590 million. That investment is now worth an estimated $5.8 billion.
Despite the steep drop in the value of the prince's Internet portfolio, the prince is known as a buy-and-hold investor, and there are many observers who believe his Internet stock selections have long-term potential.