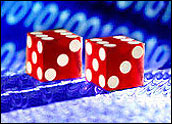 A newInternet venture that screams "too good to be true" is testing users' taste for gamesmanship in the online auction space, offering electronics, jewelry and other luxury items at a fraction of their retail prices.
The idea is that UniqueAuction.com, launched in September, makes up for the loss on the item by charging bidders fees — US$2 per bid for standard members and $1 per bid for platinum members.
Platinum membership means access to better information about other bids. It is not only encouraged — it is practically required to "win," which is accomplished by placing the highest unique bid for an item, down to the penny.
Unique Auction CEO Arif Mirza touted the company's revenues from bidding fees — more than $2.8 million so far. The tally is posted in a running display on the home page, where users can place bids as low as a couple of bucks for anything from a diamond necklace, to an Xbox 360, to a Humvee SUV.
Platinum Perks
The object of the site's game is to come up with the highest unique bid. If the highest bid is offered by more than one person, those bids are canceled, and the winning bid would then be the next highest bid that is unique.
Mirza claims the site is adding to its 30,000 registered members every day, and he notes that bidders who do not pay the $100 platinum membership fee are also active on the site. There are non-platinum players who do manage to win on Unique Auction, he told the E-Commerce Times.
However, while all users and bidders can see the bids made in an auction, only the platinum members are presented with an organized listing of the bids. Non-platinum players have to scroll through all the data to decipher what's already out there for themselves, according to Mirza.
"The platinum members have a huge advantage," he said. "Non-members may bid a few times, but as soon as you read about platinum membership, you'll switch," he said.
Platinum membership also cuts the $2 per bid fee in half and entitles members to make more than one bid at a time, Mirza said.
Winning a Lottery
While Mirza likes to talk about competing with online auction giant eBay, the business model sounds more like a lottery to Forrester Research Vice President Andrew Bartels, who questioned the motivation for the seller on Unique Auction.
"It's not really a competitor to eBay," Bartels said. "What makes eBay work is it makes it a win-win for both buyer and seller."
Unique Auction is not really an auction at all — it's more like a lottery, Bartels suggested.
"I have to say I think this is kind of wacky, because it's essentially gambling," he told the E-Commerce Times.
Full Retail Price
Mirza, on the other hand, highlighted the various opportunities for his company and its customers, including advertising space on the site, affiliate programs, an opportunity for members to take 80 percent cash value for items they "win" in place of the items themselves, or selling platinum memberships to others for a $40 reward.
Oone member, for instance, won a vehicle on a $716 bid and took a $48,000 cash option instead, according to Mirza, leaving the car to be auctioned again.
Unique Auction items are new, packaged, brand-name products the company buys specifically for resale, he noted.
"We pay full retail price," he claimed.
The site also takes suggestions on items to auction, Mirza added.