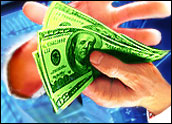 The U.S. Federal Trade Commission (FTC) announced Monday that it has filed charges against an Internet company which, by promising to pay customer Internet access fees, allegedly conned consumers into paying membership charges and turning over personal information.
The charges, filed in U.S. federal court in Chicago, allege that New Millennium Concepts, doing business as Rhinopoint.com, collected membership fees totaling about US$500,000, as well as personal information, from at least 59,000 consumers. However, New Millennium paid Internet access fees for fewer than 5 percent of Rhinopoint.com's members, the FTC said.
FTC staff attorney Steven Wernikoff told the E-Commerce Times that what set this operation apart from other scams investigated by the FTC is that the site was "all about gathering people's personal information."
Many consumers were directed to Rhinopoint.com by their Internet service providers (ISPs), according to the law-enforcement ageny. Wernikoff said that Rhinopoint.com's founder, Karl J. Kay of Hoffman Estates, Illinois, had told at least one ISP that he had deals in place with several major companies to purchase aggregated information. However, Wernikoff said that there was no evidence to back up Kay's claims.
"There was a lot of smoke that this was all a scam," Wernikoff said.
Promises, Promises
Rhinopoint.com began luring customers to its site with promises of free or reduced-cost Internet service in November 1999, according to the FTC.
To join the Rhinopoint.com network, consumers paid a one-time "set-up" fee, ranging from $10 to $16, and completed a "member profile form" that requested such information as income level, number of children and marital status.
Consumers also agreed to complete monthly marketing surveys in return for free Internet access.
The site clamed that it marketed "group data response to companies that provide us survey questions for our members." Users were also promised by Rhinopoint.com that the Web site would "not sell or provide individual names, addresses, phone numbers, credit information or other personal contact information data to outside parties under any circumstances."
Site Still Up
"Defendants rarely sent the promised surveys, even more rarely reimbursed consumers for their Internet access costs, but collected initial setup fees and personal information from tens of thousands of consumers anyway," the FTC alleged in court documents.
The FTC's complaint alleged that the site collected fees right up until the Rhinopoint.com site was taken offline in September 2000, and that Kay "refused to cooperate" with the FTC's investigation.
Although the Rhinopoint.com domain name has been taken over by another company, New Millennium Concepts' own Web site is still online and tells visitors, "Never pay for Internet access again … let us do it!"
Seeking Redress
On June 1st, the court approved a stipulated preliminary injunction prohibiting misrepresentation, freezing the defendants' assets, and barring the use of the consumer data, pending trial.
The FTC is seeking a permanent halt to the scam, a ban on the use of consumer personal and financial information, and repayment of the money taken from consumers.
Wernikoff said it was "a little to early to tell" whether consumers would get their money back. He said that in some cases it was hard to find the defendants' assets.
The FTC attorney added that it was not known at this time whether the company's database containing consumer information would be destroyed or not.