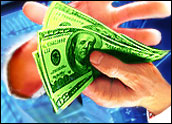 The U.S. Federal Trade Commission (FTC)announced Thursday that it has settled charges with three operators ofBigsmart.com, an online business opportunity forinvestors in an Internet shopping mall network that government investigators charged was an illegal pyramid scheme.
According to the FTC complaint, Bigsmart marketed Internet theme malls thatfeatured a collection of links to retail sites maintained by independentthird-party merchants, such as MarthaStewart.com, and to an onlinesuperstore operated by Bigsmart itself.
Traffic was directed to the malls through personalized Bigsmart "welcomepages" that members bought access to for a US$10 application fee and a$99.95 hosting fee. In return for their investment, the FTC said,members were told they could earn "substantial income" from commissions onproducts purchased through the sites.
However, the FTC said those claims were false. Moreover, the agency asserted that various Bigsmart promotional materials were misleading and provided the "means and instrumentalities" for others to deceive consumers.
Pyramid Alleged
Government representatives said that each of these practices undertaken bythe Mesa, Arizona-based company violated federal consumer protection laws.
"Although Bigsmart claimed that members would make substantial amounts ofmoney, the scheme was structured in such a way that realizing continuedfinancial gains would depend on the continued, successive recruitment ofother participants, not on retail sales of products and services to thepublic," said the FTC.
As part of the settlements — which the FTC noted does not constitute anadmission by the defendants of any wrongdoing — Bigsmart promoters DarrinEpps and Edward Lamont have been permanently barred from future multilevelmarketing plans. The FTC said the lifetime ban was imposed because of the "egregiousness of their recruiting practices in this case and their priorinvolvement with unlawful multilevel marketers."
Future Prohibitions
A third defendant who served as a "figurehead" president of the company forroughly eight months, Richard Slaback, was barred from participation in suchoperations for seven years.
The settlements also prohibit all three from ever taking part in a pyramidscheme, making false or misleading claims in selling a business venture, andmaking or assisting others in supporting misrepresentations about earningsor income in conjunction with any business in which they are engaged.
The defendants must also meet FTC requirements that they monitor theiremployees or agents to ensure they are not using illegal practices.
In terms of financial redress, Slaback will pay $38,000 to consumers whowere taken in by the operation's claims. The amount comes on the heels of a $5 million payment in restitution that Bigsmart principals Mark Tahiliani and HarryTahiliani agreed to provide to investors in March. The Tahilianis alsoposted a $500,000 performance bond to settled FTC charges in the case.
Earlier Case
The Commission said that both Epps and Lamont were also previouslyhigh-level distributors in Equinox International Corporation, anothermultilevel marketer the FTC filed suit against in August 1999.
The FTC said it will monitor Bigsmart's compliance with mandates of thesettlement, which was approved by a vote of 5-0. The orders were filed inthe U.S. District Court for the District of Arizona.
According to the FTC, Epps and his company Netforce Seminars signed upinvestors in the pyramid scheme from their offices in Austin and SanAntonio, Texas. Meanwhile, Lamont's recruitment efforts were undertaken fromoffices in Pittsburgh, Pennsylvania.