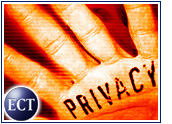 After a lengthy investigation into the privacy policies of Web information provider Alexa, a subsidiary of Amazon.com (Nasdaq: AMZN), the U.S. Federal Trade Commission (FTC) has declined to take action against the company, Alexa said Tuesday.
The FTC launched its investigation of Alexa in March 2000 to determine if the company's software improperly collected personally identifiable information and passed it to Amazon. Alexa's software monitors Internet users as they navigate Web sites to provide information about visited pages and to suggest related sites.
"We cooperated with the FTC every step of the way to explain how our technology works, and believe that our privacy policy reflected our practices," Alexa founder and chief executive officer Brewster Kahle said. "Alexa user privacy was protected at all times, and no personally identifiable user information has ever been used for any purpose."
Deceptive Practice
Although the FTC has declined to take any immediate action against Alexa, the FTC did advise Amazon that it had concluded that both Amazon and Alexa "likely were deceptive" about their privacy policies.
The companies claimed they did not keep personally identifiable information in Alexa's database of Web-usage patterns, but have admitted that some information could be stored in the database inadvertently.
A letter sent by the FTC to Amazon's attorneys advised them that the decision not to take any action was made at the staff level and could later be revised.
Lawsuits Settled
Last month, Amazon and Alexa agreed to pay out almost US$2 million to settle civil suits filed by users who claimed that their personal information was collected and used without their permission.
Alexa also agreed to "destroy certain previously collected personal information so as to minimize, if not eliminate, the possibility of defendants to 'link' such information to an individual consumer's personally identifiable information."
Amazon and Alexa both declined to admit wrongdoing and said they were settling the suits to "put to rest all controversy and to avoid the further uncertainty, risk, expense and burdensome, protracted and costly litigation" that would be involved in prosecuting and defending the lawsuits.
Second Win
The FTC's decision not to take action against Alexa, at least in the short term, is the second time in recent days that Amazon has escaped unscathed from an FTC investigation.
On Friday, FTC officials said Amazon did not break federal law when it changed its privacy policy in September by explicitly telling its customers their personal information could be sold if the company were to go out of business or sell off one of its divisions.
In letters to EPIC and Junkbusters, the two groups that filed the privacy complaint about the change in policy, the FTC's Jodie Bernstein said that the agency "believes that Amazon's revised privacy policy does not materially conflict with representations Amazon made in its previous privacy policy and that it likely has not violated Section 5 of the FTC Act."