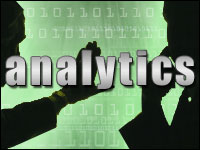 Brand graph company33Across announced Wednesday it has acquired Tynt, a company that tracks user behavior for publishers. Both companies were mum about the amount of the all-stock deal. Tynt will take 33Across into a new market; the combined companies will reach 1.25 billion users globally, according to 33Across.
33Across builds brand graphs for its 350-plus customers, which include VISA, British Airways and Jones New York. Brand graphs plot the social engagement, influence and interests of a brand's customers. The company will now be able to add brand graph services to Tynt's customers.
Tynt has created a toolset that predicts interest-driven user behavior of those who visit publisher websites, creating "interest graphs." Much of this is accomplished by tracking the paste-and-share activities of those visiting publishing sites. Both companies have indicated they track user behavior anonymously.
With the merger, 33Across intends to extend it brand graph services to Tynt's publishing customers at a time when publishers are struggling.
Technology and Market
The overriding reason for the acquisition is to give 33Across access to Tynt publishers.
"Through the acquisition, we are now able to get publishers to harness the power of social media and to distribute their content more widely," Matt Arkin, president of 33Across, told the E-Commerce Times.
"The acquisition also gives us an international footprint," said Arkin. "Prior to the acquisition, 33Across reached 225 million users. Tynt enables us to reach a broader global footprint to 1.25 billion. It gives us more of a global perspective."
Going for Analytics
The acquisition gives 33Across a much larger position in social networking analytics.
"They are looking to corner the market in Web advertising analytics," Rob Enderle, principal analyst at the Enderle Group, told the E-Commerce Times. "This is the information that advertisers would use to optimize and target their campaigns.
Tynt has website analytics tools focused on user intent and interest, Enderle noted, supplementing the 33Across tools that specifically focus on social networks like Facebook.
With the Tynt acquisition, 33Across should be able to argue it has better analytics than Google, he said.
The move could also dress up 33Across to be acquired.
"Analytics are what drive advertising spend, and this combination and the ability to be stronger than Google could put them in the acquisition sights of Microsoft," suggested Enderle. "Microsoft could use these tools to shift revenue away from Google."
Niche Is Going Mainstream
With the growth of social sites such as Facebook, Web analytics may be going mainstream.
"It is a niche now, but because social networks capture an unprecedented amount of user interest information, they can be extremely powerful in terms of defining well-targeted campaigns on the Web," said Enderle. "They could also be used to craft ad campaigns in traditional media, because they contain geographic and media interest information."
Social networks and Web analytics could supplant many traditional advertising tools, he pointed out. "Social networks provide an unprecedented amount of information on people, and that information should provide a vastly stronger foundation for advertising campaigns than the more traditional focus group approach."
What About Privacy?
When companies are plowing through so much user behavior, questions about privacy come up.
"Certainly, they are capturing and reporting information that individually could be seen as very private," remarked Enderle. "On the other hand, this is also information people expose in social networks that are advertising funded."
People using these sites typically give up their right to privacy when they sign up, he said.