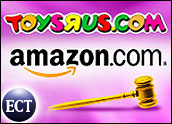 A judge has cleared the way for Toys 'R' Us to terminate its e-commerce partnership with Amazon.com, a 10-year dot-com era partnership the toy seller has been seeking to terminate for nearly two years.
Toys 'R' Us sued Amazon in May of 2004, seeking to terminate an agreement struck in 2000 under which Amazon handled online sales for the retailer. The toy seller had sought US$200 million in damages, claiming Amazon had violated the terms of the deal by allowing others to sell toys through its site.
Gaining Independence
Amazon had countersued, saying the toy retailer had left Amazon without sufficient inventory to fill orders.
The verdict, which includes no awarding of monetary damage payments to Toys 'R' Us, and which Amazon could still appeal, effectively means that Toys 'R' Us is free to establish its own Web presence and sell toys directly. For years, the toysrus.com domain has led to the toys department at Amazon's store.
"Our goal was to protect the Toys 'R' Us brand while continuing to provide a positive shopping experience for our online customers. This ruling allows us to do that," said David J. Schwartz, the company's General Counsel.
John Sullivan, the senior vice president for the company's dot-com site, said Toys 'R' Us is ready for the transition to a stand-alone site.
"We have been preparing for today's decision and expect to provide seamless online access for our customers," he said. "Tighter integration of our online business with our brick-and-mortar locations will enhance customer service by creating a more unified Web and retail shopping experience."
For its part, Amazon said it was "in the process of reviewing a number of options" and "strongly disagreed" with the 131-page ruling.
Timing Is Everything
Toys 'R' Us turned to Amazon for help after a disastrous 1999 holiday season when many of its online purchases did not reach their destination on schedule, with hundreds of unhappy customers left in the lurch on Christmas morning.
The resulting 10-year deal was seen as increasingly unnecessary for Toys 'R' Us and an impediment to creating the type of unified, multi-channel marketing and retailing presence that is key to retail success today.
Though the specific terms are not known, it's likely that the pricing may have also been a factor in the decision by Toys 'R' Us to seek to end the deal early. The deal came at a time when the dot-com bubble was still inflating before its burst began about a year later.
Other retailers also have weaned themselves from Amazon, including Circuit City, which cut ties last year after a four-year partnership that was seen lagging expectations throughout.
Combined with the acquisition earlier this week of a fashion-focused apparel site, Shopbop.com, the development with Toys 'R' Us could signal a significant shift in revenue mix for Amazon in the near future.
Profit margins in the toy business had become notoriously squeezed in recent years thanks in large part to the rise of Wal-Mart and other chain discounters. Toys 'R' Us restructured heavily to prepare itself to compete more effectively. It was during those changes that it began asking out of its bubble-era contract.
By then, Amazon also became an entirely different company, with a much broader array of products sold through its e-commerce platform, including many from smaller, third-party merchants.
The toys and games category, meanwhile, was one of the few online retail categories that saw sales decline during the holiday season of 2005. Sales in the category fell 9 percent to $2.2 billion, according to the eHoliday report from Nielsen//NetRatings and Goldman Sachs.
Who Wins?
How much ground Amazon will have to make up is not clear, though Prudential Equity analyst Mark Rowen said in a research note that revenue from the partnership was about $100 million annually for Amazon, with operating profit around $50 million — or as much as 10 percent of the e-tailer's total.
Rowen speculated that Target, the discount retailer that has a third-party arrangement in place with Amazon for certain goods, including apparel, could expand its relationship with Amazon to include toy sales.
As for Toys 'R' Us, Goldman Sachs analyst Anthony Noto said a potential partner could be GSI Commerce, which provides e-commerce outsourcing to about 50 e-commerce sites, including the e-tail outlets of Linens 'N Things, Ace Hardware, Dick's Sporting Goods and RadioShack.
In a recent interview with the E-Commerce Times, GSI senior vice president for corporate development Michael R. Conn said the company was looking to add several major partners to its platform each year and cited toys as one of several growth areas for the company.
"Retailers turn to us because they want a strong presence online that's all theirs but don't have the expertise to establish a world-class e-commerce site quickly," Conn said.