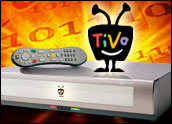 In a move analysts say could boost the fortunes of three companies and accelerate the adoption of mobile video, digital video recorder company TiVo announced a new service that enables users to transfer shows they've recorded to their video-capable Apple iPods and Sony PlayStation Portables (PSP).
The enhancement to TiVo's portability function, known as TiVoToGo, seeks to automate the process of transferring legally recorded video to portable devices. TiVo said beta testing of the service will begin immediately with some existing subscribers. The service is expected to be generally available starting early next year.
Analysts noted that some users have already been transferring TiVo video to portable devices, but do so through a complicated, multi-step process that involves first transferring it to a PC and then re-formatting the video.
TiVoToGo will allow users of home-network-connected TiVo boxes to transfer the shows to their computers and then synch the video to the PSP or iPod automatically. While on the PC, the system uses the Media Player software from Microsoft, making it another potential winner in the deal, analysts said, though on a more modest scale than the main three players.
"The increasing popularity of mobile devices for viewing video such as Apple's iPod and the PSP device demonstrate the enormous consumer demand for entertainment on the go," said Tom Rogers, CEO of TiVo. "We're making it easy for consumers to enjoy the TV shows they want to watch right from their iPod or PSP — whenever and wherever they want."
Analysts said the move may appeal to commuters who ride trains or students who have down-time between classes and might enjoy both time-shifting and space-shifting their television programming.
Easy Does It
TiVo said it would build in unobtrusive security features to prevent "abuse or unlawful use of this feature," including "watermark" technologies that enable tracking of the account from which a transferred program originated.
Meanwhile, some hurdles remain, one being the time it may take to move programs from TiVo to PC to portable device. A full-length show will take about 30 minutes to transfer over a wireless network to a PC and another 10 minutes or more to be downloaded to the portable device.
For that reason, TiVo is highlighting the ability to put the devices on an auto-synch mode that will transfer programming every night.
Jupiter Research analyst Michael Gartenberg said the TiVo digital video recorder (DVR) essentially will become a huge well of legally recorded TV content that can be transferred to mobile devices.
"Looks like these folks have finally reduced that way down to make this a mainstream activity — even if the process is a slow one," Gartenberg said.
Winners All Around
Most analysts were quick to call the move a win for all three companies. TiVo is facing increasing competition from satellite and cable TV providers who want to spread use of their own DVRs. And the two portable device makers need to build up a critical mass of suitable content to help the video-playback features of their hand-held devices catch the consumers' attention.
Standard & Poor's analyst Megan Graham-Hackett saw the development as an especially positive one for Apple's iPod, which otherwise has only a small amount of content available.
"In our view, the video iPod needs expanded content to be a more attractive device," she wrote in a research note. However, she added that continuing to refine the process over time to make it even simpler for the average user to follow will be essential.
The current process, while a vast improvement "is still a bit complex and may limit demand," Graham-Hackett wrote.