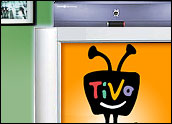 In a trial that could mark the arrival of more widespread on-demand television programming and further rock the traditional media advertising industry, digital video recorder maker TiVo said it would offer original content from the Independent Film Channel (IFC) for download over the Internet.
The content that's the focus of the deal includes the first scripted made-for-TV series that IFC plans to debut later this month — shows such as "Hopeless Pictures," "Greg the Bunny," and "The Festival." The shows will be made available to some TiVo subscribers with high-speed connections for download before they appear on the cable channel.
Users selected to take part in the trial will find the content downloaded to their TiVo set top boxes and can then watch the shows whenever they choose. TiVo users must connect to the Internet occasionally to get program guide updates and other information, including software updates. But many TiVo users still use dial-up connections, which will not be included in the trial.
TV's Future
"The future of television will include an explosion of consumer choice, including programming options from both traditional broadcast and broadband Internet channels and sources," said Brodie Keast, executive vice president and general manager of TiVo's consumer division. "TiVo intends to help consumers sort through this complexity."
TiVo is far from the only one hoping to serve that role, of course, with everyone from Web search players to traditional networks and content owners such as Time Warner, parent of AOL, eyeing the opportunities presented by a shift to on-demand distribution of content over broadband connections.
Its newly announced partnership could have broad ramifications. For TiVo, on-demand downloads could be a much-needed new revenue source to help the company withstand fierce competition from cable providers and others who have begun to roll out digital video recorders (DVRs) of their own.
TiVo found out last week it was losing DirecTV as a distributor after that company said it planned to integrate its own DVR technology into its satellite receiver set-top boxes. Since DirecTV subscribers make up about two-thirds of TiVo's 3.3 million customers, that news hit TiVo shares hard. The stock was up modestly this morning on news of the IFC deal.
Advertisers Watching
But the big questions are whether the use of the Web to deliver such content will become standard practice and, if so, what impact that will have on advertising. TiVo has already become the bane of some marketers because it gives users the ability to fast-forward through the commercials on digitally recorded TV shows.
Shifting more content delivery to an on-demand model, analysts say, could even blow up the traditional model of TV scheduling.
The deal is also important for IFC, which potentially gains millions of new viewers for its specialty channel, which is often available only as part of a premium cable or satellite package.
"The key element of this trial for us is that it will enable consumers who do not typically have access to IFC to download our three new original series over broadband," said Evan Shapiro, general manager of IFC.
Change Coming
Many have pondered using the Internet to distribute movies and other video content since the Web's earliest days. But only recently has the technological critical mass been achieved to enable downloads of large video files and even in today's broadband world, many analysts see a limit to how far video can go.
That will start to change, however, as telecom companies and cable companies roll out new offerings that blend TV and the Internet, independent telecom analyst Jeff Kagan told the E-Commerce Times.
"The lines between the Internet and the TV connection are already blurred," Kagan said. "That's going to become more and more true as the competitors vie for ways to deliver customers what they want when they want it."
Even the most reluctant players in the mix — movie studios and other content owners — are coming around as they recognize that shifting consumer habits, which have reduced the importance of networks already, will alter the landscape further. "The end game is that everyone gets to program their own cable network in whatever way they choose," Kagan added.
Advertisers, meanwhile, are already beginning to lay the groundwork for the new reality, Gartner analyst Laura Behrens said in a recent report. One of the reasons for the surge in online search and related spending is that budgets are being shifted away from TV, she said, adding: "So far the dollar impact is small, but the die is cast for an inexorable market evolution."