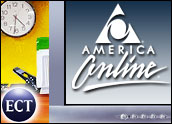 America Online today said it would become just the latest media company to embrace the Internet as an alternative outlet for television programming, striking a deal with Warner Bros. to offer free, ad-supported versions of classic TV shows online.
AOL said it would use Warner content as the anchor for its new broadband video channel, known as IN2TV. The portal said the channel would represent the largest selection of full-length television programming now available online.
Old Favorites
The channel, expected to launch early in 2006, will feature thousands of episodes of Warner programs, from situation comedies such as "Welcome Back Kotter," "F Troop," "Chico and the Man," and "Alice" to hour-long dramas such as "Lois & Clark" and "La Femme Nikita."
All shows will be available free and on-demand, with advertising running before and during the shows supporting the effort. The IN2TV channel will also feature supporting content such as interactive quizzes, games and contests aimed at TV buffs.
"With In2TV, we are enabling Web users to experience and interact with television programming in an entirely new way, and creating a new distribution platform for TV content," said Kevin Conroy, executive vice president of AOL Media Networks. "We view this collaboration as truly transformational."
The vault of programming gives AOL content not only for its TV channel but also for its video search tool, which uses technology AOL acquired when it bought multi-media search engine Singingfish last year.
Perhaps more importantly, because both AOL and Warner Bros. are both members of the same sprawling Time Warner corporate family, the deal may represent the type of cross-medium synergy that was envisioned when AOL and Time Warner merged in 2000.
TV Dot Com
Recent weeks have seen an explosion of deals bringing content previously available only on television to the Internet. NBC, for instance, has begun making its evening newscast available in its entirety on MSNBC.com just hours after it airs, making it the first network to put its full show on the Internet.
And last week, NBC struck a separate deal with DirecTV while CBC linked with Comcast to begin offering on-demand versions of popular, current TV shows. Those downloads come with a 99-cent price tag. Add in an earlier deal to bring ABC shows to the iPod and nearly every major network has made some alternative distribution move in the past month.
Jupiter Research analyst Todd Chanko said plenty of obstacles to making the TV-to-Web switch remain, including the question about whether people will be willing to sit in front of their personal computers to watch long-form video.
"But the idea is sound: leveraging the power of broadband to showcase what it does best — video," Chanko said.
He added that the deal also leverages "AOL's still-considerable brand equity" and Warner's "vast TV library, which cannot possibly always have all shows in syndication at all times."
When combined with a strong market for video commercials in terms of price per thousand viewings — almost on par with TV ads in terms of pricing — it's easy to see why AOL and others are targeting the market, despite unanswered questions.
Quality Promised
AOL hopes to answer another frequent question about online video by promising DVD-quality in a format its calling AOL Hi-Q that will be available alongside standard streaming video. Both will be free.
IN2TV will be set up with six channels each centered around a genre or theme and users will be able to search the entire store of video by keyword, show titles or actors' names.
The six channels will focus on comedy, drama, cartoons, horror and superheros, action and vintage shows.
"The television industry is reinventing itself, the same way the telephone industry is reinventing itself and they are all blending," telecom analyst Jeff Kagan told the E-Commerce Times. "This idea makes a lot of sense and could find a customer base.
"There will be quite a bit of choice when it comes to watching television and unlike yesterday where customers chose one company to order television from, tomorrow they may choose multiple providers based on the offers," Kagan added. "New technologies, and new ways of delivering television shows, like over the net opens up whole new ways to compete and offer services. We are way too early to predict a winner as the industry expands and changes. This is the fun part of watching all the ideas bubble up and find their way, or not."