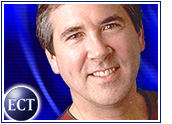 EarthLink (Nasdaq: ELNK) improved 113/64 to 8 11/32 Monday after the Internet service provider (ISP) announced anagreement with Time Warner (NYSE: TWX) to offer broadband services over the media giant's cable systems.
Atlanta, Georgia-based EarthLink said its high-speed Internet services will beavailable to about 20 million homes with access to Time Warner's systems.The company said the alliance is "groundbreaking" because it providescustomers with a choice of high-speed services, and marks the cable industry'smost far-reaching partnership with an unaffiliated ISP.
"Building on our alliances with DSL, satellite, fixed wireless, and othercable operators, this partnership will significantly expand our ability toprovide subscribers with always-on, high-speed Internet access," saidEarthLink chief executive officer Garry Betty.
Glenn A. Britt, president of Time Warner Cable, called the alliance "a goodbusiness agreement" for both companies.
"We believe it will serve as a modelfor future broadband agreements between ISPs and cable companies across thecountry," Britt said.
Time Warner is "in productive negotiations with additionalISPs" about similar arrangements, according to Britt.
EarthLink will begin offering services over Time Warner's cable lines after the media company completes the restructuring of an existing contract with its Road Runner affiliate. The services will likely be available"sometime in the second half of 2001," the companies said.
The EarthLink-Time Warner agreement is also conditioned on approval from the U.S. Federal TradeCommission (FTC), and on the completion of Time Warner's planned merger with America Online, Inc. (NYSE: AOL).
AOL and Time Warner, meanwhile, said they delayed their planned mergerclosing to allow the FTC more time to consider details of the EarthLinkarrangement. They said they now expect to complete the merger this year or"very early" in 2001.