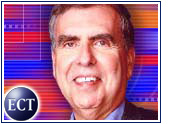 Clearing the way for a mega-merger that could radically change the high-tech landscape, stockholders of Time Warner (NYSE: TWX) and America Online (NYSE: AOL) voted overwhelmingly in favor of the pending deal Friday at separate shareholder meetings.
Although the merger faces opposition that could delay approval from federal regulators, the companies maintain that the union will take place this year.
Shareholder, Executive Enthusiasm
The merger was supported almost unanimously by shareholders of each company. Approximately 97 percent of America Online shareholders, meeting in Tysons Corner, Virginia, approved the merger. At the Time Warner meeting in New York City, approximately 99 percent of the shareholders approved the deal.
Said AOL Chairman and CEO Steve Case, "We thank both America Online and Time Warner shareholders for their support. Every day since we announced this merger, we are seeing more and more potential for what America Online and Time Warner can achieve together for consumers worldwide."
Case added, "Our combined shareholders' approval marks a major milestone in our progress to complete this historic merger."
Industry Opposition
Although nearly all of the shareholders approve, many industry and government leaders question whether the merger will actually benefit or harm consumers and businesses in the relevant industries.
For example, earlier this month, 43 technology companies sent a letter to the U.S. Federal Communications Commission (FCC) complaining that AOL holds an anti-competitive monopoly on the instant messenger (IM) market.
As a result of that complaint, the FCC asked AOL to provide specific data about its instant messaging software by June 30th. The commission has also asked Time Warner to submit an outline of its plans to deploy high-speed Internet, digital cable and local telephone services.
The Walt Disney Company, which owns ABC, has also expressed its concerns to the FCC regarding the merger. The entertainment giant sent a letter to the FCC in May requesting that the commission place "meaningful and enforceable conditions" on the deal.
Also in May, telecom giant SBC Communications (NYSE: SBC) lashed out at the proposed merger, citing an alleged fraudulent action by Time Warner's cable group as evidence of "anti-competitive behavior." The case centered around a Time Warner office in Houston, Texas that was accused of distributing flyers offering its employees incentives for signing up for, and then canceling, the direct subscriber line (DSL) Internet access service of SBC, a Time Warner competitor.
Both Case and Levin have appeared before the U.S. Congress in recent months, where they were asked about the online privacy and antitrust issues surrounding the proposed merger.
Fixed Exchange
If the merger is approved, Time Warner and America Online stock will be converted to AOL Time Warner stock at fixed exchange ratios.
The Time Warner common shareholders will receive 1.5 shares of AOL Time Warner common stock for each share of Time Warner common stock they own. AOL shareholders will receive one share of AOL Time Warner for each share of AOL common stock they own.