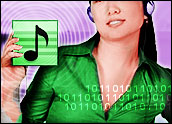 Shares of Ticketmaster Entertainment and Live Nation surged more than 15 percent in early trading Wednesday on press reports that the two companies could merge as soon as this week in a blockbuster deal that would change the landscape in concert and sports ticketing.
Ticketmaster is one of the world's largest ticketing operations, and Live Nation is the world's largest concert promoter.
If the two companies can reach an agreement and then pass substantial regulatory hurdles, the combined entity would have access to more than 200 of the most popular musical artists in the world, including Billy Joel, Elton John, Jimmy Buffett, AC/DC, U2 and Madonna.
Ticketmaster officials could not be reached for comment and Live Nation spokesperson John Vlaughtin said that "as a matter of company policy, we don't comment on market speculation."
Deal Would Face Antitrust Scrutiny
"I think given the amount of publicity the story has gotten that there is some truth to the reports," David Joyce, an equity analyst with Miller Tabak, told the E-Commerce Times.
Even if the two companies can come to an agreement, it's clear that the U.S. Department of Justice will scrutinize any alliance between Ticketmaster and Live Nation carefully.
"There are some hurdles on the regulatory front," Joyce said. "Ticket prices will most likely rise and that won't make potential consumers happy."
It's also possible that some artists might be reticent to perform at venues where Ticketmaster and Live Nation control ticketing, he said.
Indeed, some musical groups have taken strong stands against Ticketmaster in the past due to the high service charges the company places on concert tickets. Seattle-based grunge rockers Pearl Jam are perhaps the most notable example of a group taking a stand against Ticketmaster.
In the mid-1990s, the band boycotted all venues controlled by Ticketmaster and testified against the company as part of the DOJ's antitrust investigation of Ticketmaster at the time. The DOJ eventually dropped its case.
Good Deal for Ticketmaster
If a deal is indeed consummated, Ticketmaster would be the clear winner.
"LiveNation used to be a Ticketmaster client and then they took their ticketing in-house," David Kestenbaum, an equity analyst with Morgan Joseph, said. "Surprisingly, they were very successful right off the bat."
Now, Ticketmaster is on the defensive. A deal with Live Nation would enable Ticketmaster to reclaim the 15 percent of the market it lost to Live Nation while at the same time eliminating an upstart competitor, Kestenbaum said.
"This deal makes a lot of sense for Ticketmaster," he said.
On the other hand, LiveNation would benefit from the stability of Ticketmaster's profitability and cash horde, especially at a time when consumers are spending less on discretionary items such as concert and sports tickets, Kestenbaum said.
"Live Nation's claiming that [the recession isn't hurting its business], but I have to believe in due course that it will," he said. "However, they do have a pretty good concert lineup for next summer with U2 and Madonna."
Potential Conflict of Interest
A deal between Ticketmaster and Live Nation would also set up a potential conflict of interest between the artists' managers under Live Nation and Ticketmaster's ticketing interests.
"The manager represents the interest of the artist and tries to get the best deal they can for their artists," Kestenbaum said. "The promoter represents the interests of the promoter. Some artists might shy away from that."