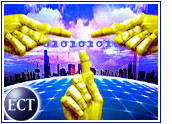 Many e-commerce firms were doomed to fail the moment their founders hatched their shaky business models.But hindsight redeems the collapses of some others.
In fact, a few promising online business modelsundeservedly sank with the receding technology tide orwere otherwise hampered by poor execution.
In many cases, analysts said, conceptual gems mighthave spawned healthy companies if exuberante-tailers had only embraced their brick-and-mortar brethrensooner.
"There was a determination to be pure online players,unsaddled by warehouses and inventory,"Morningstar.com analyst David Kathman told theE-Commerce Times. "This turned out to be a baddecision, because when online growth did not reachexpectations, these companies had nowhere else toturn."
Analysts agreed that online grocery shoppingepitomizes this scenario, and may enjoy a resurgence.Similarly, despite some notable downfalls, thefurniture and electronics industries still couldproduce e-commerce winners.
Grocery Bills
The crashes of HomeGrocer, Streamline.com and HomeRunsmar the short history of online groceries. But Webvanorchestrated the most notorious flameout, spendingbillions of dollars on warehouses, delivery trucksand personnel before exiting the e-commerce stage inJuly 2001.
"The economics of building a stand-alone Internetgrocer proved highly problematic," GartnerG2 researchdirector David Schehr told the E-Commerce Times.
If technology sector growth had continued at meteoricrates, Webvan's pure-play model might have worked, according to analysts. But weak demand left the company unable to cover its monumental infrastructure costs.
Webvan also tried to expand too quickly, moving intonew areas before it had achievedmeasurable success in its home market of northernCalifornia, Kathman noted.
Special Cases
But as recent forays by MyWebGrocer.com,Albertson's(NYSE: ABS) and Safeway (NYSE: SWY)show, the online grocery shopping concept is far from dead.
"The concept is not inherently bad if it is done theright way," Kathman said. "It may be more of a nicherather than mass market, with a subset of people who are affluent and busy enough to pay for delivery."
The packaged goods niche presents a riper opportunityfor online grocers, Schehr added, because research showsthat consumers prefer to buy fresh produce, bread andmeat in person.
Mixed Models
Some online grocers already have launched hybridmodels that allow shoppers to place orders online andpick them up at physical supermarkets.
"They use the existing physical infrastructure of asupermarket and leverage the existing cost base foradditional revenue," Schehr said.
For its part, Albertson's offers in-store pickups at31 stores around Portland, Oregon, for a service fee ofUS$4.95 per order.
Linking Lists
Schehr said he also sees promise in the concept ofstoring online shopping lists for frequent shoppers. Such lists could be tied into transactional data fromubiquitous frequent-shopper cards.
Royal Ahold-owned Peapod.com, for example, banks onsuch lists to grow customer loyalty.
Clearly, with brick-and-mortar partners on board,online grocers like Peapod could remodel and resurrectthe idea championed by martyred predecessors likeWebvan.
Electronics Potential
While outright failures in the electronics arenaare fewer than in the grocery sector, electronicse-tailers have encountered similar obstacles.
As with groceries, selling electronic equipment solely through the online channel proved to be at odds with prevailing consumer demand, analysts said.
"Electronics are tough to sell online because shippingis a hassle and expensive, and customers like to touchand feel [the products]," Kathman noted.
Best for Last?
Complementary brick-and-mortar arms allow electronicse-tailers to offer shoppers in-store product testingand order pickup.
For its part, Connecticut-based Outpost.com camewithin inches of failure before establishedelectronics retailer Fry's Electronics saved it with a buyout.
Even Amazon.com (Nasdaq: AMZN) has teamed with CircuitCity and Best Buy to better serve electronics shoppers.
All in all, analysts agreed, online electronics retailers couldenjoy a second wind as long as physical stores arekept in the loop.
Future for Furniture
In the furniture industry, failed e-tailersFurniture.com and Living.com belie the potential ofthe basic business concept.
"Companies had bigger expectations than they shouldhave," Kathman said. "Shipping furniture is a hassle,so brick-and-mortar partnerships [are crucial]."
For instance, surviving furniture firm Homeportfolio.comoffers rebates to customers who browse the onlineshowrooms of partner stores and make in-storepurchases.