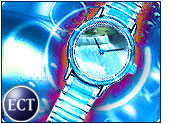 Just as MTV changed the face of music, technology has resculpted the public relations landscape, improving some aspects of the field and creating a number of challenges as well.
Calling technology both "a blessing and a curse," Jon Lavietes, an account executive at public relations firm Fleishman-Hillard, told the E-Commerce Times that "innovations such as e-mail, cell phones and the Internet give you the ability to work remotely" but can lead to miscommunication.
And Bob Martin, a PR professional who has worked as an account executive at the Hill & Knowlton and now-defunct Niehaus Ryan Wong agencies, told the E-Commerce Times that while "technology may provide new paths of communication," he fears that "e-mail and the emergence of 'remote control PR' have eroded the actual craft of public relations."
Remote Possibilites
According to Lavietes, technology gives PR professionals the freedom to leave their desks and work remotely with both colleagues and clients. "It has been very common in my work experience to serve on accounts in which the agency staff and client staff have been spread across offices, coasts and regions," he said.
"If you have talented people and good working chemistry, you can be just as effective working [remotely] as you can working with the person sitting next to you."
For example, technology allows remote team members to share documents instantly and to conference with any number of people in verbal or e-mail discussions.
"If there are files that are too big to share, many companies now have internal portals to share information over the Web," Lavietes noted.
Free from the Small Stuff
The Internet also has made it possible for PR firms to save money on clipping services. Instead of paying a company to locate and clip news articles that mention clients and track client publicity successes, PR firms can take on that task internally.
"Much of the tracking can be done by junior staff" and pasted into a file on an account rep's desktop, then sent to the client "without ever having to print a hard copy," according to Lavietes.
The same cost and time savings can be realized when it comes to intelligence, research and fact finding. "The core account staff can do a lot of their own intelligence right in their respective offices before bringing in outside firms for more in-depth analyses," Lavietes noted.
"I would imagine in thedays before the Internet, PR representatives would either have to go tolibraries themselves or farm out work to conduct much of the research they do in the office today."
In addition, technology helps PR professionals access and respond more quickly to journalists. "Today's reporters have less time, and they sometimes prefer quick e-mail correspondence over face-to-face meetings," he said.
Notable Negatives
While, as Martin said, "when applied correctly, technology can save the day," it does have some notable drawbacks.
"There is a tendency, especially among younger professionals, to hide behind technology and bury a story pitch in an e-mail or a voice mail," Martin said. "This, to a certain degree, takes them off the firing line and can be detrimental as soft skills become more critical."
Reliance on e-mail also can result in miscommunication because, barring a reply, there is no way to know whether a missive has been received and read.
"Conversely, if you are in meetings for an entire morning, you will not be able to look at important information sent for hours, which is a significant chunk of time in this industry," Lavietes said.
Minor Setbacks
In addition, technology puts PR professionals in an "always on" state that can disrupt the work-life balance, according to Lavietes. "Cell phones and e-mail can pose the problem of 'too much access,'" he said, which means "being interrupted at meetings, checking e-mails at all hours of the night at home, and generally being located anytime, anywhere."
However, he added, "These setbacks are minor compared to the positive aspects of these technologies as long as you have a work environment and strong organizational structure to mitigate [them] as much as possible."