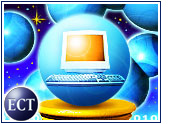 3D e-commerce is a pair of jeans seen from every angle. It is the ability to mix and match shoes, dresses, coats or belts; to explore the nooks and crannies of an entire home; and to capture the most realistic, detailed view possible.
As companies scramble to earn a piece of what Forrester Research has called a US$5.2 billion e-commerce market, their pressing concerns include how products are displayed and how well potential customers can interact with items. Therefore, investments in new technology, including zoom features, colored fabric swatches, personalized 3D rendering and 360-degree video, are expected to boost e-tailers' bottom lines in the long run.
Measurable ROI
Direct mail retailer Lands' End added virtual 3D model capability to its Web site two years ago, a feat that had little precedent at the time. Users could answer height, weight and facial feature questions to create a virtual model that could "try on" digitized Lands' End clothing. They also could change the colors of garments, choose different accessories or even view a model from different angles.
Once a customer decided to purchase an item, the virtual model also could help determine the correct size.
In late September, nearly a year after the feature debuted, Lands' End and its Canadian partner, My Virtual Model, reported that the 3D technology had helped increase new sales by 26 percent and had boosted the average customer ticket price by 13 percent.
At the time of Lands' End's initial implementation, the cost to digitize its apparel collection neared US$2,000 per item. However, according to analysts, that cost has dropped dramatically and now hovers between $90 and $200, opening the door for retailers with smaller budgets to try this tactic.
Indeed, the Home Shopping Network, Lane Bryant and Glamour magazine all have signed deals to incorporate virtual model technology, My Virtual Model founder Louise Guay told the E-Commerce Times.
Betting on the Future
With more than 5 million registered "models," My Virtual Model allows shoppers to input the same username and password to access each participating Web site, where they can retrieve their personalized model. Guay estimated that the average "try-on" session involves about 20 garments.
Guay is betting that modeling technology will take off in her company's newest offering, My Virtual Model Imail, where users can create a personalized model and try on clothing via e-mail without visiting a Web site.
In the future, Guay believes more personalized models will possess intelligence enabling them to act as personal coaches or style consultants — not only on PCs, but also in store kiosks or on handheld devices.
In fact, she predicted that within the next two years, "all of this will be your virtual identity." She noted that fans of virtual models already post their virtual image on personal Web sites to show weight loss success, and there is potential to use such models in personal ads or for virtual cosmetology. "Very soon we want to add a 3D face on the 3D body," she added.
Zoom Applications
While nearly 17 percent of the top apparel sites have turned to virtual models, Forrester senior retail analyst Carrie Johnson anticipated that only about half of all retail sites ever will use the technology.
In the short term, Johnson told the E-Commerce Times, retailers are looking to implement features that are less costly, but that can give customers a better idea of a product's detail. "We've done some research and feel like the momentum in [the virtual modeling] space is starting to slow, primarily because it's not in retailers' technology budgets," she said.
In reality, she added, retailers are striving to reduce and streamline product detail pages for faster download times and improved navigation. "Other retailers in apparel are looking at maximizing text, photos — more of the basics — instead of adding the whiz-bang tools. [Those tools] are pretty expensive."
The one area in which Johnson said retailers are likely to invest is zoom technology, sold by companies like RichFX and Viewpoint, which allows consumers to focus on one aspect of a product. A recent Forrester study showed that image zoom — among the least expensive zoom display tools — had the most penetration among retailers, with 84 percent of major retail sites offering the feature.
360-Degree Environments
While 3D modeling applications have been used mainly in the retail clothing sector, Gartner vice president of emerging technologies Jackie Fenn foresees wider use of video technologies that "explore spaces" — such as interiors of cars, apartments or homes. Applications that provide greater sensory experiences, including touch and smell, also are in development.
"In terms of the core modeling technologies, there will be advances in the actual rendering algorithms, and how real it looks and how fast you can do it," Fenn said.
The Forrester study noted that 18 percent of electronics sites, including Panasonic and Circuit City, already allow consumers to rotate products or view animation or videos.
360-Degree View
San Francisco-based iPix is one of the largest online imaging companies, hosting more than 2 million pictures per day for eBay and providing 360-degree virtual video tours for Realtor.com, eCampusTours.com and a host of high-end cruise lines. Among the company's rivals is Vendaria, which provides streaming media applications.
The most recent 3D e-commerce application released by iPix is a 360-degree virtual tour of Hogwarts on the Harry Potter DVD, according to Stu Roberson, the company's senior vice president of worldwide marketing. The application lets users experience the school of magic that Harry Potter attends.
"The virtual tour is going to become a standard," Roberson told the E-Commerce Times, "for promoting and selling automobiles, real estate, commercial property, destination, travel hospitality, taking virtual tours of museums — anything that is environment-based, absolutely."