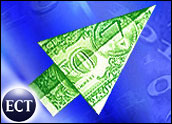 E-commerce players often seem to be playing a game of follow the leader, especially when it comes to site design and operations. And while Amazon.com and eBay have enough imitators to keep them flattered indefinitely, other outstanding e-commerce sites also have their share of admirers. These sites score high marks for a variety of reasons and have helped set the standard for e-commerce of the future.
In addition, the best e-commerce companies are sometimes on the cutting edge, but they are just as likely to borrow from others if they spot something that improves customer service and makes it easier to convert surfers into shoppers.
At Lands' End
For example, Giga Information Group vice president Erin Kinikin told the E-Commerce Times that Lands' End has set the standard by using cutting-edge technology to enhance customer experiences without forgetting that a human touch is also important.
Last year, the site unveiled a "virtual model" feature that displays clothing and accessories on a 3-D representation of a human figure. More recently, the company added a live chat feature that links shoppers with assistants if they become stumped. It also automates many basic customer service features.
"In the end, they just go the extra mile to make customers happy," Kinikin said. "They've used technology to augment customer service, not stand in for it."
That effort paid off last spring, when Sears saw a giant opportunity in Lands' End and plunked down US$1.9 billion to acquire the apparel catalog and e-tail firm. Of course, that price tag also reflects the company's well-known brand name.
Return Engagement
In another example of e-commerce excellence, Drugstore.com has silenced many critics who believed it would flame out along with other pure-play shooting stars. But contrary to naysayers' expectations, the e-tailer has established a relatively firm foothold, thumbing its nose at the brick-and-mortar alliances being forged in the space.
Help has come from investor Amazon, which funnels traffic to Drugstore.com, but the e-tailer also has done a lot of work itself. Though it is not yet profitable, it has adapted to the shrewd, penny-wise approach necessary to survive on the Web in the post-boom era.
To keep costs down, Drugstore.com relies heavily on return customers. And to ensure that customers come back, it reminds them to do so. For example, the company notifies registered customers of discount deals and enables them to receive e-mail reminders to refill their vitamin orders.
"People are tuning out e-mail in large numbers, but when they get one from a company they have a relationship with, and it contains something of value, they will follow that link," Nielsen//NetRatings chief e-commerce analyst Lisa Strand told the E-Commerce Times. "That's an important distinction."
Small But Fragrant
As the online world matures, it is consolidating, and the clear winners are becoming more apparent. But at the same time, a number of specialty e-tailers are hitting pay dirt by cultivating innovation and focusing on what customers want.
For instance, 1-800-Flowers.com, which recently reported its best-ever quarter, seems to be pursuing a mission to offer the perfect gift to shoppers. This week, the company linked with American Greetings to add cards to the mix, but its site also "pushes" suggestions to visitors, many of whom come to the site not knowing what they want to buy.
"We want to build deeper relationships with our customers, to make it easy for them to connect in turn with the important people in their lives," said 1-800-Flowers CEO Jim McCann.
"The smaller sites … often succeed because they're not trying to be everything to everybody," Giga Information Group vice president Andrew Bartels told the E-Commerce Times. "By focusing on one thing, they can get it right. Customers know what to expect, and [the sites] often deliver that and more."