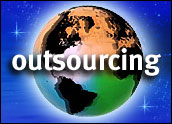 A while back, someone convinced U.S. businesses that if they outsourced work overseas, costs would fall off a cliff. The Wall Street lemmings jumped, believing they could fly, but instead plummeted to the depths of a global recession. Many of them are still falling, yet they continue to outsource their work offshore.
"Many companies are looking to offshore outsourcing as a way to reduce costs and remain competitive during these challenging economic conditions," Daniel Masur, a partner in the the global law firm Mayer Brown, told the E-Commerce Times.
Will more of the same change the game or merely leave more splatter? After all, stock prices and profits have tanked, and consumer backlash and political pressure are growing, spurred on by a landslide of ills ranging from staggering unemployment rates to empty tax coffers.
"While companies may be proceeding on a stealth basis to avoid unwelcome publicity, those with existing offshore outsourcing arrangements are continuing them and, to the extent companies are engaging in additional outsourcing, offshoring remains a part of most transactions," said Masur. "The exception may be financial institutions and others who took TARP or stimulus money, who are understandably reluctant to do anything that will trigger a political backlash."
Meanwhile, workers in the U.S. — fed-up with the corporate bandits that cost them their jobs, pensions, life-savings and quality of life — are fighting back.
The Fight Against Poverty-Spread
Despite repeated charges of protectionism and racism, U.S. workers are driven more by loss of income than by fear or hatred toward their counterparts in foreign lands.
Executives at Synergroup Systems, an IT staff augmentation company formed in 1986, noticed that a lot of very good U.S.-based knowledge workers were being let go when offshoring gained momentum around 2003.
"As a result, we developed the 'Homeland Onshore Model' as a way to allow domestic IT staff to compete directly with offshore resources," Synergroup Vice President Mark Jennings told the E-Commerce Times. "The interesting thing was, at that time nobody really cared. Even though we proved we could compete directly and everyone loved the concept, the IT executives were committed to going overseas no matter what. These directives usually came from the highest levels."
Today, every job that can be shipped pretty much is. Accounting, advertising, tax services, paralegal work, business processes, IT, manufacturing, warehousing, energy, customer service, journalism for newspapers and magazines, and more have been sent offshore.
At first, all these jobs were sent to India, one of the poorest countries on the planet. The offshoring trend did much to build a middle class there. However, now workers in India are considered too expensive, and the work is being shipped elsewhere.
India is no longer the favored U.S. offshore destination, according to a study by the London School of Economics and Political Science (LSE).
"The market has matured, and employees are demanding higher pay, resulting in India and China increasing their own offshoring of IT and BPO work to other countries," Professor Leslie Willcocks, director of the London School of Economics (LSE) outsourcing unit, told the E-Commerce Times. More destitute places like Vietnam, Caribbean nations, Eastern European countries and South American countries are now the recipients of the offshoring "bounty."
In other words, the fate of India's middle class will soon mirror the fate of the U.S. middle class, as well as other middle classes in other countries — and so the global spread of poverty goes …
American Workers Score Third-World Pay?
Supporters of offshoring say that U.S. wages, and now Indian wages, are out of whack, and the current economic troubles are a natural adjustment that will bring wages back in line.
"The wage inflation in emerging markets and deflation of wages in the U.S. market will arrive at a happy median at the end of this recession," said GK Murthy, senior vice president of enterprise services at Sierra Atlantic, a U.S.-based offshoring company with centers in India and China.
"In other words, a Utah-based call center with market-adjusted wages, in comparison with a Bangalore-based call center, will be more competitive and provide more reshoring opportunities than a backlash on offshoring," Murthy told the E-Commerce Times.
Will that balanced wage base actually come to be?
"We are seeing a distinct move by service providers trying to provide services from regions in the U.S. that are economically depressed and typically underutilized for outsourcing," said Paul Roy, another partner at Mayer Brown.
"IBM's development of a service center in Iowa is a perfect example of this," Roy told the E-Commerce Times.
"Indian service providers are also opening centers in cities like Detroit in reaction to rising wage rates in India, and lowering costs in parts of the U.S.," he added.
These moves may not be as promising as they appear if the wages workers earn are too low to ensure a decent quality of life, or if the work moves on the minute these areas rise above poverty.
"U.S. companies can't seem to get past short-term, quarterly thinking," Dan Brown, adjunct professor in the Segal Design Institute of the McCormick School of Engineering and Design at Northwestern University, told the E-Commerce Times. Brown is also founder and president of Loggerhead Tools and insists on manufacturing exclusively in the U.S.
"We're all stuck forever in growing poverty and a diminishing future until U.S. companies can learn to think longer-term," he said.
US Workers for the Win
U.S. workers have always been known for their innovation and independent streak. While the lemmings continue to rush the cliff, the workers are climbing their way back to the top.
"There are efforts under way for U.S. based service providers to use technology to allow them to tap into labor resources in a variety of geographies throughout the U.S.," said Mayer Brown's Roy.
Those efforts are as varied as the American imagination.
"Right now, America is reinventing the outsourcing industry with innovative alternatives such as the home-based outsourcing model," Christopher Carrington, chief executive officer of Alpine Access, a provider of home-based call center services, told the E-Commerce Times. Previously, Carrington managed offshore operations for Capgemini.
"By using home-based call center workers, companies can put mature, educated representatives on the phones with their customers at a lower cost than a traditional bricks-and-mortar call center, which is becoming an increasingly popular option among Fortune 1,000 companies," he explained. "In fact, more than 80 percent of our new business leads these days come from companies looking for a way to bring their call centers back from offshore and win back some of their customers."
US Reinvents Employment
New technologies are making home-shoring and other alternatives feasible for companies to consider.
"SaaS and virtual work provide companies with more flexibility to bring jobs back home without the huge upfront capital costs of labor, technology and buildings," LiveOps CEO and Chairman Maynard Webb told the E-Commerce Times. LiveOps offers a SaaS-based platform for managing contact centers and an on-demand workforce for outsourcing calls to contact centers.
Companies have now had time to experience the hidden costs and challenges with IT offshoring, said Synergroup's Jennings, and that — combined with consumer backlash and political pressures — is forcing them to reconsider offshoring.
"In addition, the downward pressure on rates and salaries in all areas of the country, combined with the attractiveness of a remote model, have allowed us to offer rates that are competitive with the offshore vendors once all costs and efficiencies are accounted for," he said. "Because of this, we're finding that interest in our model is rapidly increasing."
Calls to the company for U.S. IT workers have substantially increased in the last six months, Jennings noted.
Other home-grown organizations are touting home-shoring and seeing success. Cloud Nine Virtual Staffing supports clients all over the country using only U.S. workers.
"Our model goes even further," Ragen Chastain, owner of Cloud Nine Staffing, told the E-Commerce Times.
"Whenever possible, we provide our clients with a virtual assistant in their local community so that the majority of their money stays local," said Chastain.
Cybertary is a similar operation offering franchises in the U.S. and Canada, each with a bevy of virtual assistants at the ready. Cybertary touts its "patriot policy" which states the company and franchisees only hire workers within the U.S. and Canada.
Still others are hitching the American worker's wagon to other big trends, such as the green initiative.
"There are many operational and green advantages to manufacturing locally in the U.S. rather than outsourcing to Asia," Jeff Karrenbauer, president of Insight, a supply chain planning solutions provider, told the E-Commerce Times.
"Although the financial markets expect manufacturers to move operations abroad for low-cost labor, many advantages, such as a greener supply chain, are available domestically," he said.
Supply chain design is viewed as a "dark art" in some cases, noted Karrenbauer. Management teams are sometimes encouraged to outsource overseas for low labor cost alone, when that may not be the best answer.
When all is said and done, America will likely rise again, but only if the lessons of a grinding recession are truly learned.
"The lessons are if you are a global company, it merely means you have no home to turn to and no countrymen to rally to your aid," observed Northwestern University's Brown.
"Americans aren't protectionists," he said. "Corporations are, and other countries are, which is why we have such huge trade imbalances — but bottom-line, American workers aren't buying the bull anymore."