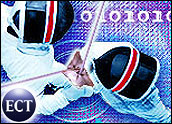 The European Union, as a bloc, may be backing Digital Video Broadcasting Handheld (DVB-H) as its preferred mobile TV technology, but whether European consumers embrace that platform remains to be seen.
There are other options that could in the not-too-distant future enable consumers to access TV in individualized, interactive formats such as podcasts or on-demand programming.
DVB-H differs from other formats in that it's a broadcast standard that can be used to transmit signals to non-telephone platforms, but it is one of several modes of delivering mobile TV signals.
The Competition
The others, which glom onto third-generation (3G) data technology, are TDtv, which is based on TD-CDMA (code division multiple access) technology from NextWave Wireless; 1seg, based on the Japanese-developed Integrated Services Digital Broadcasting-Terrestrial (ISDB-T); Digital Audio Broadcasting (DAB); and MediaFLO (forward link only), developed by U.S.-based Qualcomm.
Indeed, NextWave touts TDtv, which is based on a Universal MobileTelecommunications System (UMTS), as quickly evolving 4G technology and a product of the 3rd Generation Partnership Project — a collaboration among groups of telecom associations working to create a 3G mobile phone system specification within the scope of the International Mobile Telecommunications-2000 project of the International Telecommunication Union.
TDtv can deliver as many as 28 channels of live programming to TDtv-enabled wideband code division multiple access (WCDMA) handsets, NextWave says.
While DVB-H recently made news by getting the EU nod, San Diego-based NextWave Chief Marketing Officer John Hambidge points out that 3G technology already was on the bloc's list of standards.
"We're not necessarily displeased with their move," Hambidge told the E-Commerce Times. "It's just that we're a big believer that the best way to deliver mobile TV is to use existing networks, rather than creating new spectrums."
'More Than a Stand-Alone Solution'
TDtv is a better way of delivering mobile TV, Hambidge opined, pointing to recent announcements about the technology by various large mobile operators across Europe.
More than 150 mobile network operators have direct access to this spectrum in Europe and Asia, compared to only two with direct access to DVB-H spectrum, he added.
"By using the spectrum that mobile network operators already have, they can deliver more than a stand-alone solution like DVB-H," Hambidge noted.
NextWave sees the EU's endorsement of DVB-H as statement against the momentum toward MediaFLO in the U.S. "We see this move, frankly, as almost a continuation of the EU versus Qualcomm," he continued. "They key thing they're talking about is which technology they want to put into broadcast. Here in the U.S., obviously platforms like MediaFLO has been the adopted technology. They were really trying to pre-empt that in Europe. There are only two mobile network operators in Europe who have direct access to that spectrum."
Going With a European Standard
There might be some politics in the EU's preference for Finland-born DVB-H, suggested UK-based Gartner analyst Paul O'Donovan.
"The European decision to go with DVB-H was inevitable because DVB-H is a European standard based on DVB-T (digital video broadcasting – terrestrial)," O'Donovan told the E-Commerce Times. "Simple as that, really. Europe decided to go with a European standard."
However, the EU can only recommend actions to its member states.
"The European Commission can only recommend and support pan-European standards across member states," O'Donovan noted. "3G network operators are commercially independent of the individual European countries preferred method of mobile TV formats and can do whatever they like. The European Commission, however, sees a greater responsibility across borders for interoperability, which is a more political viewpoint."
That works two ways, though, O'Donovan added. "The U.S. never likes adopting standards not invented in the U.S., so it's not at all surprising that there is some disagreement in the U.S. over adopting DVB-H. It's as much a political decision as a technical one."
Pluses and Minuses
TDtv makes sense in a couple of ways, said Parks Associates mobile TV analyst John Barrett. "The operators have spent all this money for 3G licenses and if you're wanting to roll out service, TDtv is a good way to go about it."
TDtv also has an edge in capacity, he told the E-Commerce Times. "The thing is, when they auctioned off the licenses for 3G services in Europe and a lot of other countries, the spectrum allotment came with a little extra spectrum. TDtv takes that little bit of extra spectrum and allows you to broadcast a limited number of mobile TV channels using that."
Other technologies, such as MediaFLO, have additional spectrum, too. "UHF (ultra high frequency) is what they're using in most cases," Barrett commented. "There are costs involved. TDtv allows you to take your existing cellular network and upgrade it so you have some extra spectrum to broadcast channels [and] you don't have to buy a whole new spectrum."
Allowing for Customization
There are cost advantages to TDtv, Hambidge noted. "The regulator in the UK expects to get 400 million Pounds (US$795 million) for the spectrum license. For the cost of the spectrum alone, you could build up to six of our national TDtv networks. We think it's a far better delivery mechanism."
Operators have to be assured of a profit in order for mobile TV to work, he continued. "To make mobile TV take off, it has to be a good business for operators. They have to subsidize the handsets. It's really part of their integrated mobile package, where they have data, voice, SMS (short message service) or other services on the handset. The first benefit of TDtv is that it works in their existing 3G spectrum. Secondly, it lets them be in the driver's seat with the technology they already have."
TDtv technology also allows for some customization, Hambidge noted. "In London, the users will see content not only based on what they're preferences are. It also will deliver ads relevant for that user, say, if he watches a sports channel."
Whether the consumer interest is there for any type of mobile TV remains to be seen and, O'Donovan said, that's a major factor in how — or whether — any of the technologies take hold.
"There is still a lot of work to be done to roll out DVB-H services, but there doesn't seem to be a huge pent-up demand in the market for mobile TV services," he concluded.