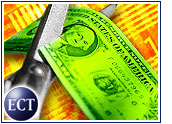 Texas Instruments (NYSE: TXN) fell to US$29.26 early Monday, down 89 cents, after the semiconductor company lowered its expectations for first-quarter results, saying a slumping economy "is continuing to constrain demand for technology products."
Following the announcement, Merrill Lynch reportedly downgraded Texas Instruments' near-term investment rating to accumulate from buy.
Market conditions have not improved since the fourth quarter of last year, when demand for its products took a "sharp downturn," according to Texas Instruments.
"Customers have continued to cancel or reschedule backlog, causing visibility to remain limited," the company said.
As a result, Texas Instruments said, first-quarter revenue is likely to be about 20 percent below year-earlier levels, rather than 10 percent lower, as previously projected. Pro forma operating margin will be 6 to 8 percentage points lower, instead of the previously expected 5 to 6 points lower.
To help deal with the drop, Texas Instruments said that it is cutting capital spending for 2001 by 30 percent from last year to $2 billion, and offering employees a voluntary retirement program.
Spending on research and development will be "strong," the company said, rising to $1.7 billion this year from $1.6 billion last year.
"The strength of our balance sheet gives TI the ability to maintain strategic levels of capital and R&D [research and development] investments," said Texas Instruments chairman, president and chief executive officer Tom Engibous. "These investments are focused on areas that increase our competitiveness and efficiency."
Engibous added: "We are using this pause in the economy to further strengthen our strategies and our structure. We are well prepared to resume strong sales and earnings growth when the economy and our markets rebound."