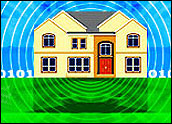 There is no doubt that technology — e-mail, instant messaging (IM), Internet relay chat (IRC), virtual private networks (VPNs), encryption and more — has made telecommuting, or more appropriately teleworking, more appealing for both workers and industry.
Employees looking to balance their own time and employers looking to get the best people wherever they are and save on real estate and time by eliminating the commute are increasingly improving, investing and succeeding with non-traditional work situations from home or other remote locations.
But before all of the personal and business issues are even considered, the biggest hurdle is often the fear from bosses that a worker out of sight is not really a worker, according to Basex chief executive officer and chief analyst Jonathan Spira.
"The first thing is whether people can overcome their own preconceived notions," Spira told the E-Commerce Times. "Do you need to see people to know they are working?"
Out-of-Office Experience
Spira explained that while companies can and do successfully assess how best to leverage telework scenarios where employees work from home offices, hotels or elsewhere, there is still apprehension on the part of some managers and executives who fear employees will not work to their full potential when not under the company's watch.
As an example, Spira said AT&T had a long history with teleworking and that eventually, 90 percent of those who could telecommute for the company did, either part-time or full-time.
"What's most interesting is, that of the 10 percent who don't [telecommute despite the option], all have managers that need to see them at work," Spira said.
Nevertheless, the analyst said the trend toward more telecommuting is continuing, and Basex forecasts that by next year, 40 percent of all knowledge workers will work in non-traditional environments, as opposed to corporate headquarters and offices.
Performance and Penalty
Spira — who stressed the broad range of different telework scenarios from partly to fully at home, the road or elsewhere — said the change away from the corporate cubicle creates new challenges for managers on several levels, including their comfort level with the situation and the challenge of managing employees that may be scattered around the globe.
"The second thing is, how do you provide an equivalent infrastructure so people not in the office are not penalized?" Spira said. "Obviously, if they're penalized, the company is also."
To address this issue, Spira said companies must set performance standards that apply to all workers — those in-house as well as those who work remotely.
"It's critical that teleworkers are not second-class citizens," he said.
Trading Traffic for Loyalty
Interarbor Solutions principal analyst Dana Gardner told the E-Commerce Times that telecommuting seems to catch on, then get resistance, and so on, in a "give-and-take" cycle for both employers and employees. However, Gardner said the overall, ongoing trend is toward more teleworking. He pointed out many reasons for it, particularly gasoline's rising price and increasingly congested freeways.
Beyond the obvious benefits of real estate savings and a wider potential workforce, Gardner also pointed to the special dedication that comes from employees who are given the opportunity to manage their own time and balance their professional and personal or family lives.
"There's a sense that people who telecommute are more flexible," he said. "They can combine their home and work life, and they will go the extra yard when needed because they've been given the opportunity to better manage their time."
Taking Tech To Work
Gardner stressed that teleworking is not right for all occupations; it certainly raises security issues for IT managers. Nevertheless, by using technology such as VPNs, encryption and keeping data on secured servers that telecommuters work on in remote sessions, Gardner said most of the security and clearance concerns can be addressed.
The analyst indicated the real challenge for companies, particularly human resources departments, is creating the right compensation and incentive structures for off-site workers.
"I have to think that many employers put the burden on an employee to make this work," Gardner said. "They say, 'You figure it out' … whether it's IT [or otherwise], it's basically adopt to us, which I think is a little off the mark."
"Companies should ask themselves, what should we do?"