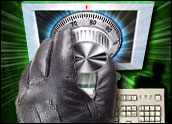 Two Orange County, Calif., teens have been charged with breaking into their school late at night and using stolen log-ins to hack into its computer system and change their grades.
Omar Khan, 18, a student at Tesoro High School in Rancho Santa Margarita, now faces 34 felony counts of altering a public record, 11 felony counts of stealing and secreting a public record, seven felony counts of computer access and fraud, six felony counts of burglary, four felony counts of identity theft, three felony counts of altering a book of records, two felony counts of receiving stolen property, one felony count of conspiracy and one felony count of attempted altering of a public record.
He faces a maximum sentence of 38 years and four months in prison if convicted.
Tanvir Singh, 18, a student at the same school, is charged with one felony count each of conspiracy, burglary, computer access and fraud, and attempted altering of a public record. He faces a maximum sentence of three years in prison if convicted.
Multiple Accusations
Kahn is accused of unlawfully breaking and entering into locked rooms at Tesoro High School, where he was a senior, on several occasions late at night and on weekends between January and May of this year to access school computers to change his grades.
He allegedly stole personal log-ins from teachers in order to gain access and alter his test scores from Advanced Placement (AP) classes and school records from previous semesters, often changing grades of "C," "D," or "F" to "A," according to the Orange County District Attorney's Office.
He also allegedly altered the permanent transcript grades of 12 other students, according to the charges.
Spyware Installation
Khan was also accused of cheating on an English test in April, resulting in a failing grade and confiscation of the test. The following weekend, Khan allegedly broke into the school and stole the test back in an attempt to conceal the evidence that he had cheated.
Khan is accused of installing spyware on the school computer as well to allow him to access the system from other locations.
On April 21, 2008, Khan allegedly changed his transcripts to increase his grade point average. The next day, he allegedly requested a copy of his official transcripts in order to appeal a denial of admission to the University of California for the fall semester.
Cover-Up Attempt
Late that night, Khan is accused of breaking into the school again, changing additional grades, and backdating the date and time stamp on the grade changes to cover up his crimes.
School administrators alerted law enforcement after noticing a discrepancy in Khan's grades when he requested a copy of his official transcripts. An investigation revealed that Khan was in possession of original tests, test questions and answers, and copies of his altered grades. Khan allegedly stole master copies of tests, some of which were e-mailed to dozens of AP students.
Meanwhile, Singh, who was also a Tesoro High School senior, is accused of exchanging several text messages with Khan in May detailing how the two planned to break into the school that evening to steal a test in preparation for an exam the following day.
Singh and Khan are accused of meeting at the school, breaking into a classroom and fleeing the scene before accessing the test after a night custodian discovered them, according to the District Attorney's office.
Potential Damage
"As computers form the backbone of commerce and hold countless billions of secret, private and confidential bits of information, it is not surprising that the penalties are becoming higher and reflect the potential damage to society," Washington technology attorney Raymond Van Dyke told the E-Commerce Times.
"Here, there were multiple physical and electronic break-ins of a sophisticated nature, involving dozens of distinct felonies, each of which has a severe penalty — perhaps some with mandatory sentencing guidelines," Van Dyke added. "Hopefully, the age and immaturity of the parties will mitigate a harsh sentence."
Indeed, hacking into school computers isn't new, but it is a serious crime, Parry Aftab, cybercrime lawyer and executive director of WiredSafety.org, told the E-Commerce Times.
'A Grown-Up Crime'
"Ever since 'War Games' and 'Ferris Bueller's Day Off,' we've seen young people using school computers to improve their grades," Aftab said.
Since those early days, however, the criminal aspects of such activity have become more clear, she added.
"If someone's going to do this — and especially if they're 18 — they need to recognize that this is a grown-up crime," she said.
Hack Testing Service
Rather than a prison sentence, however — which may or may not be plea-bargained, Aftab noted — there could be other punishments that better fit the crime and take the defendants' technical skills into account, she said.
At WiredSafety.org, for instance, "whenever kids do these kinds of things, we put them to work trying to hack parental control programs" with the permission of the companies involved, she said.
"This is a sad event, but it has to be a serious event," Aftab concluded. "If these kids have gotten into this computer — these are government databases — they could have destroyed it all. The potential harm is serious, so we need to teach kids that this is a serious crime."