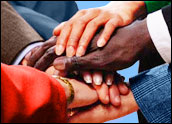 Six major high-tech firms have agreed to toss out the no-solicitation agreements they had reached concerning competitors' employees. The secret anti-trolling agreements came to a voluntary end on Friday as the Department of Justice announced a settlement with Adobe, Apple, Google, Intel, Intuit and Pixar. None of the companies admitted any wrongdoing.
The Department of Justice's antitrust division filed a civil antitrust complaint in U.S. District Court for the District of Columbia, along with a proposed settlement that, if approved by the court, would resolve the matter.
The companies' agreements curbed competition to the detriment of employees, depriving them of access to better job opportunities, the DoJ said.
Cold-Calling the Competition
There was no precompetitive justification for the agreements, and they distorted the competitive process, argued Molly S. Boast, deputy assistant attorney general in the DoJ's antitrust division.
Cold-calling — that is, soliciting employees directly from other companies — is viewed by the Justice Department as a positive form of competition that benefits skilled workers, and demand for employees with advanced or specialized skills is strong in the high-tech sector, the department noted.
Environment of Insecurity
The practice of collaborating directly with competitive firms helped created an environment in which companies started to worry about employees getting a look at the other side of the fence, observed Rob Enderle, principal analyst with the Enderle Group.
"From the firms' perspective, they were just trying to keep people in collaborative enforcements from drifting away to the collaborator," Enderle told the E-Commerce Times, "but the best way is to incentivize them to stay at in the first place."
The agreements also showed companies viewed their employees as property that needed to be protected, noted Enderle. "The no-solicitation agreements were basically anti-poaching agreements. For the companies, it is an antitrust exposure, and it is anti-employee. At its foundation is an increasing belief that employees are similar to assets, and you can buy and sell them."
End It Quick and Move On
The settlement between the six companies and the Department of Justice demonstrated the firms had no appetite for ongoing legal battles.
"It's probably to everyone's best interest this was settled as quickly as possible," Charles King, Principal Analyst, Pund-IT told the E-Commerce Times. "If this had percolated too long, the companies involved could risk alienating their employees more than they already were."
Another fear that may have prompted the complaint's swift closure was the concern that Justice's nose could smell further interesting practices, suggested Laura DiDio, principal analyst with ITIC.
"It's in no one's best interest to continue litigation, especially with the U.S. Department of Justice. Running afoul with them could have a cascading effect," DiDio told the E-Commerce Times.
None of the companies actually admitted to any collusion with competitors on no-poaching agreements.
"This reminds me in the late 1960s when rock stars got busted," said DiDio. "They would proclaim they were going straight and clean, but this business is not going to stop."
One interesting view is that it's unusual for these mammoth companies to get a swat from a bigger dog, she remarked. "These six companies are at the top, top tier, and they can usually dictate the rules. It's funny to see them with a super alpha above them."