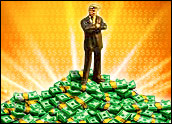 A little less than two weeks after Electronic Arts offered Take-Two Interactive stockholders US$2 billion in a hostile takeover bid, Take-Two's board unanimously urged shareholders to reject the unsolicited proposal Wednesday morning.
Take-Two's board said the $26 per share price is "inadequate" and "contrary to the best interests of Take-Two's stockholders." However, the board has started a process for considering and discussing other offers and potential strategic alliances with third parties — including EA — after "Grand Theft Auto IV" hits store shelves at the end of April.
"Take-Two's board of directors and senior management team were put in place less than one year ago with one mandate: maximize stockholder value. We have maintained a single-minded focus on that goal ever since and it remains the guiding principle in every decision we make with regard to Take-Two," said Take-Two Chairman Strauss Zelnick.
'Regrettable for Stockholders'
"Our board has unanimously determined that Electronic Arts' offer continues to provide insufficient value and remains opportunistically timed to capture the value of the upcoming Grand Theft Auto IV launch at the expense of our stockholders," he continued. "Our stockholders' interests would hardly be served by accepting an offer from EA at the wrong price and the wrong time."
EA termed Take-Two's rejection of its offer as "regrettable for stockholders."
"EA believes that a combination of EA and Take-Two is in the best business interest of all parties. EA's offer price of $26 per share is full and fair, and reflects the value of Take-Two's intellectual properties, talent and operational progress," Tiffany Steckler, an EA spokesperson, told the E-Commerce Times. "EA's all-cash, tender offer commenced on March 13 is the most certain way to create stockholder value, and represents a 64 percent premium over Take-Two's closing stock price on February 15, the last trading day before EA sent its revised proposal to Take-Two.
"EA's tender offer is a clear process for Take-Two stockholders to maximize the value of their investment. By advising its stockholders to reject the offer, Take-Two's board is exposing them to further delays which may reduce the value and the certainty of a potential transaction," she added. EA's tender offer will expire April 11.
Take-Two did not respond to an inquiry from the E-Commerce Times.
In the Company's Best Interest?
The drama between the two video game publishers began in February when EA initially made friendly offers to acquire Take-Two. EA's head John Riccitiello in an open letter said the deal was in the best interest of the "Grand Theft Auto" franchise publisher, which faces an "uncertain" future.
"Development costs are rising dramatically and games that aren't big hits struggle to reach profitability. Most independent studios don't have much margin for error. The result has been consolidation — large publishers are merging and independent developers are more amenable to being acquired," Riccitiello opined.
Take-Two, however, was not amenable and twice refused EA's friendly offers demanding instead that talks be delayed until after the release of "GTA IV" scheduled for April 29. That, in turn, led EA to approach Take-Two shareholders directly with its hostile bid March 13.
"Take-Two refused to begin discussions until after GTA [IV launches], and there is no real reason for them to have refused to talk confidentially. When this was all confidential, they flatly refused to do so, and threatened to withhold access to records if EA went public," said Michael Pachter, a Wedbush Morgan analyst.
Take-Two cited several reasons for its recommendation to reject EA's offer.
An 'Opportunistic' Offer
In addition to the company's contention that the price is "inadequate and substantially undervalues" Take-Two, the company also claimed that:
The timing of the unsolicited offer is "opportunistic" and timed to take advantage of the "GTA IV" release, the "full commercial potential" of which will not be apparent until after its release.
The offer does not reflect Take-Two's efforts to revitalize the company since June 2007 which include a more streamlined and efficient operating structure and cost-cutting initiatives.
EA's offer does not compensate the company for significant potential "synergy value" related to realizing a sales uplift from the combined companies' broader reach, levering investments in online, wireless and other evolving platforms; optimizing sports offerings; and reducing sales, general as well as administrative costs.
Fair market value is the price paid by a willing buyer to a willing seller, with neither under compulsion to act, Pachter pointed out. The "value" to one party or the other is irrelevant, and if the seller is willing to accept X as a price, it doesn't matter if the buyer is willing to pay twice the amount.
"EA can capture more value from Take-Two than its prior share price by eliminating overhead, since EA is already in the video game publishing business. Take-Two shareholders don't have a right to extract full value from overhead elimination — synergy — since they could not accomplish that on their own," he said.
"EA can pay more than fair market value — in this case, 50 percent above the prior day's closing price — by offering to share the synergy value with Take-Two shareholders. They are offering $600 million to $650 million in premium, so they are sharing that much of the synergy. Whether the company is worth $1 billion or $10 billion more is irrelevant if there is not a competing offer. There is not, so the discussion about synergy value is foolish," Pachter added.
Take-Two has also pulled out the stops in an effort to stymie shareholders who may disagree with their recommendations. The video game maker adopted a 180-day so-called "poison pill" plan, trying to prevent the hostile takeover. The "poison pill" would take effect in the event an investor acquired 20 percent or more of the company's common stock. The plan would not apply to existing stockholders who own 20 percent or more of Take-Two's stock unless they moved to acquire an additional 2 percent of the company's outstanding stock.
'GTA IV' Performance
However, according to Pachter, the $26 a share offer was a fair price.
"Take-Two management, its board and its advisors clearly see something about the value of the company that all of its shareholders have missed for the last year, when the stock averaged below $17 [per share] and never traded above $21 [per share]," he told the E-Commerce Times.
As for Take-Two's dogged demand that no negotiations begin before "GTA IV" hits based seemingly on the belief that the game will increase the company's bottom line, they should think again, Pachter noted.
"Take-Two thinks the release of GTA will boost its worth. I completely disagree that it will boost the value beyond $26 [per share]. It's possible that the game would have boosted its value above $17 [per share], but not 50 percent above. It is naive to assume that the greater stock market did not appreciate that GTA would perform well. That expectation should have largely been reflected in the share price, and anyone who claims that the value of the game was underrepresented by $600 million to $650 million is disingenuous," he explained.
"EA is trying to grow its business both organically and through acquisition. Take-Two has very good assets, and they fit nicely with EA's. I think EA will capture control on the tender," Pachter concluded.