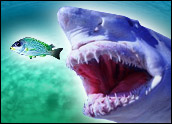 Electronic Arts has issued a hostile US$2 billion tender offer for rival video game firm Take-Two Interactive Software.
The offer represents a 64 percent premium over Take-Two's closing stock price on Feb. 15, the last day of trading before EA issued a revised proposal to the New York-based company. The $26 per share bid is about a 4 percent premium on Wednesday's closing price.
The offer has a deadline of midnight April 11, unless it is extended. Take-Two investors are scheduled to meet April 10.
Take-Two shares were up more than 2 percent, at $25.41 midday Thursday, over Wednesday's closing price of $24.91 on the Nasdaq stock exchange. The stock hit its 52-week high Feb. 28, at $27.61. Its year low was $11.82 on Aug. 16.
Industry Consolidation
The bid came almost one month after Take-Two directors rejected a $26 per share offer from EA. A few days prior, EA presented a $25 per share offer. Now, EA is going directly to Take-Two shareholders. Take-Two shares were $15.83 at the time of the second bid.
"This is a great opportunity for Take-Two shareholders," said EA CEO John Riccitiello. "We believe Take-Two investors will see our tender offer as the best way to maximize the value of their investment in Take-Two. This tender offer provides a clear process to complete the proposed transaction."
A Take-Two spokesperson declined to comment, but the company said it is asking its stockholders not to act on the offer. The company will consider the latest bid and make a recommendation to shareholders within 10 business days, it said.
The bid also represented another apparent move toward consolidation in the video game business, coming only a few months after the gaming subsidiary of France-based Vivendi and "Guitar Hero" maker Activision merged in a deal valued at $18 billion to form Activision Blizzard.
Redwood City, Calif.-based EA, owner of "Madden Football," among other titles, is the largest gaming company in the world. EA may be looking to add to its roster Take-Two titles — the crown jewel of which is "Grand Theft Auto," which has drawn criticism for its violent content — to fend off a challenge from the enlarged Activision.
Bear Stearns and Lehman Brothers are acting as Take-Two's financial advisers.
No Guarantee
There's no guarantee that the deal will get done, said Mike Hickey, an analyst with Janco Partners.
"We thought you'd see something in the $29-to-$31 [per share] range, because $25 to $26 [per share] is not much of an uptick," Hickey told the E-Commerce Times. "It's natural to sweeten it 10 to 15 percent. Given the value we see in Take-Two … this seemed like a very opportunistic bid and possibly will go higher."
However, Hickey noted, EA deems $26 a share a workable offer.
"EA got a sense of investors' barometer that, hey, maybe they can get it done at $26 [per share]," he said. However, EA also covets the property strongly enough to sweeten the offer further, if necessary. "Our belief that John (Riccitiello) really wanted this asset. It's clear to us they're not just going to walk."
This latest move by EA may indeed sway Take-Two, Sterne Agee analyst Arvind Bhatia told the E-Commerce Times. "I don't get the sense that there's anybody else that's interested or can pay that much. EA's in a pretty good position to call the shots. Their strategy seems to be a good one."
Electronic Arts' shares were trading at $46.64 midday Thursday on the Nasdaq stock exchange, up 1.25 percent from Wednesday's closing price of $47.23. The stock had a 52-week range of $43.62, which it hit Feb. 7, and $61.62 on Oct. 12.