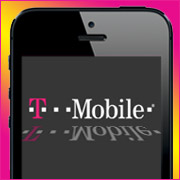 T-Mobile sold approximately 500,000 iPhone 5 handsets since their April 12 launch with the carrier, the company announced Tuesday during its Q1 earnings report. T-Mobile — the last of the major carriers to offer Apple's smartphone — attributed those sales to a combination of new and existing customers.
T-Mobile began selling the phone in its stores in combination with the company's new Simple Choice service plan that eliminates annual contracts. Consumers who bought the iPhone 5 paid US$99 up front, and $20 per month for 24 months in addition to monthly service fees of $50 per month for the first phone line.
Contract Fine Print
Even though T-Mobile sold half a million iPhones in less than a month, it may still be too early to draw conclusions from those sales, and whether the Simple Choice plan factored into consumer decisions.
"It's the iPhone, and the iPhone is still a very differentiated, strong brand in the market. I think the 'Un-carrier' initiative is more of a longer term move, and once we have a full quarter of that being available, I think it will be much easier to judge how it's doing," Ian Fogg, senior principal analyst of mobile media at IHS iSuppli told the E-Commerce Times.
"It launched after the quarter," Fogg said. "We haven't seen a quarter of the 'Un-carrier' through. What we have today is the Q1 results combined with iPhone figures that are actually part of Q2."
Analysts want to see Q2 numbers before drawing conclusions about iPhone sales.
"At this point it is hard to believe their numbers are that good, that quickly, but perhaps they are," Industry analyst Jeff Kagan told the E-Commerce Times. "We'll have to wait and see if this is a one-time burst, or whether there is real traction going forward."
Building Momentum
T-Mobile could be citing strong momentum in early Q2 to keep investors interested. "We ended the quarter with strong operational momentum, which is continuing into the second quarter, driven by the successful launch of our Un-carrier 'Simple Choice' service plan and the introduction of the iPhone into our device lineup," said John Legere, president and CEO of T-Mobile, in a corporate statement on the earnings.
Sales of the iPhone at T-Mobile stand out because the handset is new to the carrier, but not new to the market.
"The first thing that's striking about it is that number is a number that doesn't represent sales for a new model," explained Fogg. "The devices they're selling, the iPhones they're selling, have been available for a number of months. This is a model that was launched last autumn."
Even though the iPhone only recently joined T-Mobile's smartphone lineup, it was possible to have the device on the carrier's network prior to that date.
"T-Mobile has had a long run-up to this. Before they offered the iPhone for sale, they were doing in-store promotions to encourage consumers from other operators to bring their iPhone and switch to T-Mobile," said Fogg. "They had built up some marketing momentum, so when they announced, 'Yes it's officially available,' they weren't starting from scratch."
While many existing T-Mobile customers likely upgraded to the iPhone, the Apple handset is a big draw for the carrier. "This is a very important thing for T-Mobile because the iPhone is a device that consumers will switch carriers to get. It evens the playing field with the other carriers," he said.
Swift sales of the iPhone 5 keep the tone positive for T-Mobile at a time when the company is in transition.
"T-Mobile is trying for a comeback. They have quite a few irons in the fire right now," said Kagan. "A new CEO with John Legere. They just acquired MetroPCS. They are reinventing the way they charge customers with Simple Choice. Plus they are doing a great job initially selling the Apple iPhone 5."
Apple will also benefit from any T-Mobile momentum. When Apple is able to have an iPhone offered by a new operator, that opens up a potential new pool of customers, Fogg said. "It usually causes a small jump in iPhone shipments. And given this happened at what is historically a quiet quarter for Apple iPhone shipments — calendar Q2 — this small boost of shipments is very important for Apple, because it comes at a very good time of the year."