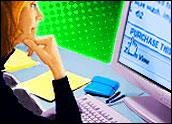 A hearty 65 percent of Internet users have paid to access or download online content, according to survey results released Thursday by the Pew Internet & American Life Project. The study focused on content such as music, articles and apps.
There were a number of surprises in the data. With the exception of software, which is a predominantly male interest, men and women bought content at roughly the same rate. The researchers also found it surprising that Internet users bought online content and subscription services at the same rate as physical products and travel.
The big categories of purchased content were software and online music. In both categories, 33 percent of online users have made purchases. Typical users pay about US$10 per month for content. As for methods of purchase, the majority of users pay for subscriptions services (23 percent) versus downloads of individual files (16 percent).
The survey data came from telephone interviews with a nationally representative sample of 1,023 adults in a mix of age groups during the period of October 28, 2010, through November 1, 2010.
Good News for Newspapers and Magazines
The print publishing industry has taken a significant hit due to the migration of readers online. The newspaper industry has been hit particularly hard, with major decades-old papers folding during 2010. There's good news online, however, with 18 percent of Internet users paying for online content from newspaper and magazine sites.
"Eighteen percent is well above noise level, so it's a positive thing," Jim Jansen, the author of the report and senior fellow at Pew Internet & American Life Project, told the E-Commerce Times. "Whether all the print outlets will be able to switch to an online model is another story."
The type of business model that supports online paid content is still the subject of experimentation.
"I think it's an issue of working out a price structure and subscription model that works for online consumers," said Jansen. "If there is a good model, people are receptive to paying for things. Music is a good example."
An Online Path Back From Disaster
While the Internet has dealt print publishing a mighty blow in recent years, the Internet may also be the salvation of content publishing.
"Nearly a fifth of users have paid for articles. That did jump out at me," Charles King, principal analyst at Pund-IT, told the E-Commerce Times. "While some online-only sites have been very successful — like the "Huffington Post" — most of their income is coming from advertising rather than premium subscriptions."
Those sites selling newspaper and magazine content tend to be print-based publishers that also have a Web presence.
"Most of the newspapers and magazines charging for content also have hard copies, including The New York Times, The Wall Street Journal, The Economist and others," said King. "I do think it portends potentially good news for the magazine and newspaper industry. There has been a lot of concern about how online content has impacted traditional newspapers. These numbers are higher than I would have expected."
Advertising Chases New Models
With so many sites selling subscription services, the future of Internet advertising could be challenged. "I think a lot of different business models are going to develop," said the Pew's Jansen.
The advertising model is still evolving online.
"Niche sites do well — like car enthusiast sites. Advertising works well there. Other places where advertising works are at sites with high traffic," said Jansen. "I don't think the subscription model is a threat. There are just different advertising models for different verticals."
Trend Watching
The Pew study is the center's first survey of online content consumption. It may become an annual report.
"This is the first time we've asked these kinds of questions, and certainly there is a lot of interest in trend data," said Jansen. "It would be great to re-do in a year's time and see what the changes are. I would expect there would be some dramatic changes given the technology that's coming."