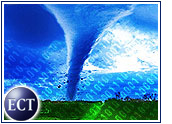 Sun Microsystems has surprised observers by warning it is mired in what it called a "particularly difficult quarter" that will result in a massive financial loss. The disclosure raises questions in some industry watchers' minds about the state of the overall technology recovery.
Sun said it expects to post an operating loss of as much as 10 U.S. cents per share, far above analysts' estimates of 2 cents. The Santa Clara, California-based firm gave few details of what is causing the weak performance except to cite "intense market and competitive dynamics."
Shares of Sun plummeted 15 percent early Tuesday to $3.25.
Restating the Obvious
Adding to the gloom-and-doom atmosphere, Sun's earnings warning was accompanied by news that a sweeping review of past financial reports will result in a non-cash charge of more than US$1 billion. The company said it will recognize a net loss of $1.03 billion in the fourth quarter of 2003 as a result of a fresh look at its taxable earnings.
The restatement quickly wiped out a $12 million profit Sun reported in July.
Sun could not immediately be reached for comment but plans to provide more details about how it will cope with the loss when it reports earnings in mid-October. Speculation immediately began that the company could be forced to make more drastic cuts in its workforce.
Sun last week acknowledged that it is cutting between 900 and 1,000 jobs worldwide, a reduction that still will leave it with more than 35,000 employees.
Analysts are split on whether Sun's woes signify a hitch in what was expected to be a slow but steady recovery for high-tech firms or merely a company-specific slowdown.
Rising Tide, Sinking Boat?
Sun recently has scrambled to light a fire under its software offerings, attempting to use Microsoft's security woes to tout its new Linux desktop offering and revamping how it prices and updates its catalog of products in a bid to make it easier for enterprises to manage their software purchases.
"If things were getting much better in general, Sun might be able to better hide some of its woes," IDC analyst Jean Bozman told the E-Commerce Times.
While server sales have shown signs of stopping a downward slide, any rebound is expected to be modest at first and to favor firms that more quickly embraced Linux and other operating systems. "It's still quite possible other companies could still report strong quarters, but a real recovery should help lift Sun as well," Bozman said.
Sun needs the recovery more than other companies, she added, because some time has elapsed since it made market share gains on any of its competitors. "Because they clung to the proprietary lineup longer, they need that customer base to pick up spending," she noted.
Prophetic Wisdom?
Just last month, Dell founder and CEO Michael Dell sparked controversy by saying Sun is among a group of technology companies that will struggle to recover because they waited too long to adapt their business models to changing market realities.
"I think there are parts of the industry that will never recover, and the reason is that their business is fundamentally based on things that people aren't going to buy very much of anymore," Dell told reporters during OracleWorld.
Just a day later, Sun announced that co-founder Bill Joy was leaving the company, a loss analysts said was largely symbolic, since Joy had done little hands-on work at Sun headquarters in recent years.