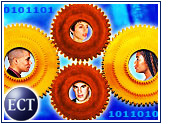 In a bid to light a fire under its software offerings, Sun Microsystems has unveiled new names, configurations and pricing for its enterprise-level offerings.
The company said it will rename Project Orion, which aims to revamp the way enterprises license software, as the Java Enterprise System (JES). In fact, that moniker will become the catch-all for Sun's infrastructure software, including its Sun One application server, directory servers and Web portal servers, as well as platforms that run Sun's messaging and calendar programs.
JES, like Orion, will be sold and shipped in synchronized quarterly releases with a per-employee licensing model. Sun said the initial release, which will become available in November for Solaris systems, will be priced at US$100 per employee per year and will include technical support during regular business hours. Around-the-clock support will be sold separately for $10 per employee. A Linux version of JES will become available early next year, Sun added.
Customers still will be able to buy the products on an "a la carte" basis after the new system is introduced, according to Sun.
Target: Confusion
JES is the culmination of an effort Sun undertook earlier this year to simplify the way enterprises buy software, aiming to use Microsoft's successful model of pitching server software to developers who in turn can build more efficient programs.
Meta Group vice president Daniel Sholler told the E-Commerce Times that Sun has taken aim at the tangle of pricing and licensing issues that daunt many enterprises, aiming to simplify matters by pricing all software the same and issuing updates on a predetermined schedule.
"Most enterprises have their hands full dealing with licensing expiring at various times and wading through different pricing schemes for each program they use," Sholler said. "This is Sun's way of responding to that problem."
The changes no doubt will be welcome to Sun's existing customer base. "Whether it's enough to change any minds about which software to use is another matter, and time will tell," Sholler added.
Sun said that in addition to reducing confusion about pricing, the new scheme will eliminate the need for enterprises to hash out custom agreements every time a license expires. This, in turn, will help reduce the amount of manpower a company must devote to software management.
Goodbye, Hatter
Sun also said it will retire the Project Mad Hatter name for its Linux-based desktop offering, which it has pushed heavily as a safer alternative to Windows. The platform, to include the Gnome desktop environment, the Mozilla browser and Sun's StarOffice suite, now will be known as the Java Desktop System. It, too, will be priced at $100 per worker per year.
Hoping to coax more developers to work in its environment, Sun said it also will revamp its developer tools, wrapping them into a package called Java Studio Enterprise. Analysts view that effort as key, because enterprises will need to see more programs based on Sun's platform to feel comfortable migrating to it.
Sun also previewed two software development projects of its own: the Java Mobility System, which will seek to extend enterprise applications to mobile workers; and the Java Card System, which will focus on security of Sun's products.