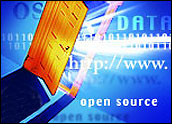 While declaring that open source has limitations, Sun Microsystems nevertheless is moving to capitalize on the method's popularity, saying it will develop an open-source desktop environment that is a low-cost, easy-to-use alternative to Microsoft Windows.
Sun unveiled its Project Mad Hatter at the LinuxWorld Conference and Expo in San Francisco, becoming the latest in a string of tech heavyweights to pledge various levels of support for the open-source platform.
The company said Project Mad Hatter will run on both Linux and its own proprietary Solaris operating system and will be compatible with some of Microsoft's Office programs and IBM's Lotus software. It also will feature Sun's own StarOffice suite, which is based on OpenOffice.org code, as well as Sun Java and some of Sun's security features.
Integration Situation
Sun vice president Curtis Sasaki said the project does more than bundle existing programs, however.
"Sun has done a significant amount of integration work and will be providing full worldwide support for the solution," he said. "We have already seen significant opportunities in the government, military, education and vertical market areas such as call centers and retail banking."
Sun spokeswoman Marie Domingo told the E-Commerce Times that several enterprise-level tests of Project Mad Hatter are under way and that Sun plans to have an early version of the package available by the end of the year.
She said the company has received positive feedback on the test versions, including praise for the 3-D desktop environment aimed at making it easier for users to switch between applications quickly.
Soon Enough?
For his part, Aberdeen Group analyst Bill Claybrook said Sun has an opportunity to capture an emerging market if early trials of the product prove successful enough to officially launch the product soon.
"If they can get the final product to market this year, they'll have a significant first-mover advantage," Claybrook told the E-Commerce Times. "There does seem to be a pent-up demand for this type of all-in-one product at this point."
Sun claims the Mad Hatter option will save customers money by increasing productivity with easy-to-use tools and by decreasing the amount of administration and support needed to integrate and run the suite.
Dipping a Toe
Also at the conference, Sun, which called itself a "major contributor" to the open-source community already, said it has formally joined the Open Source Development Lab. The Lab is a consortium of tech firms working to develop Linux applications and promote adoption of the platform in data centers.
However, although Sun made it clear that it wants to join the Linux party, the company also indicated it does not see open source as a panacea. In a keynote speech, Sun software vice president Jonathan Schwartz said a dose of reality is needed to keep the Linux phenomenon in perspective.
"The thing I worry about most with the open-source community is the sentiment that open source is somehow different," Schwartz noted. He said enterprises that have deployed Linux usually have done so because the platform performs well and is cost-effective, not because it was developed through an open process. "Customers care about quality."
For that reason, Schwartz said, Sun has no plans to abandon its Solaris platform but will continue to find ways to make it compatible with open-source options.