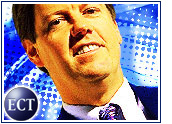 Noting that corporate clients appear to be more tight-fisted with their IT dollars, Sun Microsystems lowered its revenue forecast for its fiscal 2003 first quarter, which ends in September.
In July, the company said that first-quarter fiscal 2003 revenues would be 10 percent to 15 percent less than the US$3.4 billion that Sun posted in the fourth quarter of 2002, and that it expected a slight loss for the quarter.
The lowered forecast is closer to a 15 percent reduction than 10 percent, and is nearly even with first-quarter 2002 revenues of $2.86 billion. The company continues to have the best interests of long-term shareholders at heart, noted Sun chief financial officer Steve McGowan.
"We have the right vision and strategy for network computing. We are consciously willing to forgo the maximization of near-term earnings to protect key investments in the products."
Spending Down
Sun's announcement came as no surprise to industry observers. Tech stocks have been hit especially hard by the economy's two-year slide, and despite some predictions that IT spending will soon go up, companies like Sun have not seen much evidence of that.
In fact, in a conference call with analysts, McGowan said, "We've not seen any improvement in the current IT spending environment. In fact, some would say it might actually be worsening."
Rob Perry, an analyst with The Yankee Group, told the E-Commerce Times that "overall spending has not rebounded and is not on the way up." He noted that, within enterprises, "there are still a lot of past purchases" to be dealt with.
Sun's CFO noted that he does not expect a "significant change in the overall gross margin rate for the quarter," compared to the rate in the fourth quarter of fiscal 2002. "In addition, we are continuing to implement both flexible office sharing and work-from-home programs to improve productivity and reduce infrastructure costs," McGowan said.
A Crowded Field
Sun is not alone in its financial woes. Rival Hewlett-Packard this week reported a $2 billion third-quarter net loss, which it attributed to a weakened economy and costs associated with the $18.7 billion Compaq merger last May. The company booked revenue of $16.5 billion for the quarter ended July 31st, compared with $18.2 billion in second-quarter revenue on a combined company basis.
Despite the losses, which were widely expected, HP CEO Carly Fiorina said the company would be a strong contender against competitors Dell and Sun. "We're hitting all our integration milestones and are on track to meet our second-half targets," Fiorina said, who noted that the company raked in $2 billion in new long-term revenue during the third quarter.
Sun has watched its stock drop 90 percent in just two years or so, and the drop in IT spending has eroded its seeming invincibility. Perry said that Sun and others have also been affected by Microsoft license changes. "That is taking the focus off of other infrastructure issues," he said. "Companies have to deal with the Windows issue, and that's a big one."
A Few Bright Spots
But the news for Sun has not been all bad. According to Gartner Dataquest's latest Worldwide Server Database, Sun has grown its revenue and has shown market share growth of 10.75 percent year-over-year. The report also said the company, with a little under 80,000 units shipped and an impressive $1.86 billion in revenue, is the leader in the Unix market globally.
McGowan noted that Sun's financial picture should improve further due to the introduction of the Sun LX50 servers, which run either the Linux or the Solaris operating environments; the Sun ONE Identity Server product; and the Sun Fire 3800, 4800, 6800, 12K and 15K Servers, which integrate the company's 1.05 GHz UltraSPARC III Processor.
Perry also expects Sun to see some gains from its lightweight Linux server. He explained that the company produced the server in response to competitors' moves, and said that while it "was the smart thing to do" for the long-term, the strategy could have an adverse effect on sales of Sun's bigger machines.