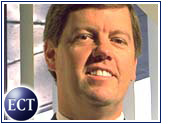 Sun Microsystems (Nasdaq: SUNW) dropped to US$20.44 Friday morning, losing 38 cents, amid reports that management lowered its targetsfor sales and earnings in the current quarter.
Sun officials reportedly told investors in a conference call after the closeof trading Thursday that the company will earn 7 to 9 cents per share in thethird quarter ending in March, against previous analyst expectations of 16cents.
Sun reportedly said that sales were expected to rise 10 to 15 percent, but that a broad-based declinein capital spending and a slumping U.S. economy would cause a shortfall.
Company officials reportedly declined to project fourth-quarter results,saying the outlook remains unclear.
Sun also said late Thursday that it plans to buy back up to $1.5billion of common stock.
"The board's approval of this program reflects astrong belief in Sun's future," said chief financial officer Michael Lehman."With the recent slowdown of the U.S. economy and accompanying decline inSun's stock price, Sun believes the current valuation does not reflect theunderlying long-term value of the company."
Sun shares are down from a 52-week high of $64.66, reached last September.The stock, along with others in the technology sector, has fallen amidconcern about the decrease in corporate spending on technology and software.
In the most recent fiscal quarter, Sun