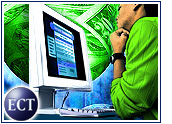 Putting a damper on positive e-commerce sales figures from the recent holiday season, a report released by Nielsen//NetRatings on Wednesday said that Internet users spent less time surfing the Web both at home and at work during the final months of 2000.
The average time spent online has been dropping steadily, falling from 17.5 hours in October to 14.9 hours in December, the audience measurement firm said.
Web use has declined across the board, according to the firm, with pageviews dropping more than 17 percent from 1,196 inOctober to 983 in December.
The number of unique sites visited per month by the average Net user fell 15 percent, from 20 sites to 17 over the same period. Likewise, the number of Net sessions per month for the average Web surfer dropped 15 percent, from 33 online sessions in October to 28 in December.
"People wanted a break," Sean Kaldor, vice president of e-commerce at NetRatings, told the E-Commerce Times. "Vacation time from work, combined with family events and travel, were the likely driversof the decrease in Web usage in December."
Jump Start
NetRatings' findings do not necessarily mean Web use will remain on the decline,according to Kaldor.
"We saw the most pronounced decline in the second two weeks of December,"Kaldor said. "The first week of January actually shows somewhat of arecovery."
Other surveys show that consumers spent much of their Web time shopping. The Nielsen//NetRatings Holiday E-Commerce Index, for example, whichmeasures home and work shopping trips to e-commerce sites, rose 78 percentduring its peak this past holiday season.
Where are the Surfers?
Surfers spent the most time on America Online (AOL) Web sites in December, theNetRatings report showed. Almost 80 million people checked AOLproperties during the month, spending an average of 42 hours and 14 minuteson the site.
AOL said Tuesday that it now has more than 27 million members, with theaddition of more than 70,000 new subscribers on Christmas Day.
According to NetRatings, Yahoo! was the second most visited site in December, followed by MSN, Excite@Home and Microsoft.
Lycos Network took the No. 6 spot, and e-tail giant Amazon.com came in No. 7. Rounding out the top10 positions were Walt Disney Internet Group, Time Warner and CNet Networks.
Ad Revenues Down
For many companies, such as Internet content providers that rely on online advertising revenues, a January recovery in Web traffic may not be enough to offset the October-to-December decline, Kaldor said.
"To have an 15 percent decline in a month — that's a loss ofpage views," that translates into a loss of revenue, Kaldor said.
Among advertisers, TRUSTe and Microsoft saw the most banner impressions fromhome and work-based Internet users during December. Amazon was third amongat-home users, while Yahoo! took third place among workplace surfers.
Brick-and-click bookstore Barnesandnoble.com came in fourth for users at home and at work.