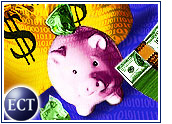 Questions about the health of e-commerce led to a slowdown in venture investments during the fourth quarter of 2000, but venture capitalists still set a new funding record in 2000, according to a report released Monday by the National Venture Capital Association and Venture Economics.
In its latest quarterly report, the trade group said investors sunk US$103 billion into emerging companies in 2000, a new record and 73 percent higher than in 1999, when $59.4 billion was invested.
However, the study found that investors pulled back during the fourth quarter, after a nearly five-year run of strong growth. Investors handed out $19.6 billion during the last quarter of 2000, down more than 30 percent from the third quarter.
On the Launch Pad
The inability of many venture-backed e-commerce firms to successfully launch IPOs in a climate hostile to new offerings was cited as a major factor in the slowdown, along with overall weakness in the stock markets.
"The industry is catching its breath," said NVCA president Mark G. Heesen. However, Heesen added that "venture capitalists are still raising new money, many have sufficient capital in their coffers and deal flow remains at healthy levels."
Despite the year-end slowdown in 2000, the number of companies who garnered some venture capital financing reached a record level of 5,380 firms, a 36 percent increase over 1999.
Still Funding the Web
Investors are not backing off Internet ventures completely. Web companies made up 40 percent of the deals announced during the fourth quarter. Internet companies brought in $7.9 billion in the fourth quarter and $47 billion for the year, an 89 percent increase over the $25 billion invested in 1999.
Within the Internet category, e-commerce and content firms saw $5.5 billion in new funding in the fourth quarter and $35 million for all of 2000.
Second Rounds Favored
But getting early-round funding is proving more difficult. Heesen said investors are focusing on established companies, with expanding firms gaining 52 percent of all the funds in the fourth quarter and 54 percent for the year. In fact, first-round financings fell to 25 percent of total investments.
"The fact that the venture capital industry continues to channel funds to existing companies conveys a confidence in the longer-term horizon," Heesen added. "There is clearly a commitment there to grow winners while at the same time feed a pipeline of new opportunities."
Location, Location
Northern California continues to reap the most venture funding, with 32 percent of all investments focused in that region. New York ranked second and New England third.
The Rocky Mountain and Great Plains regions saw the largest growth rates, with funding to those areas more than doubling year-over-year.