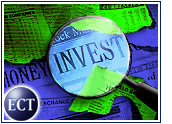 PetSmart.com has ended a plan to sell shares to the public, asking U.S. securities regulators Thursday to withdraw its offering documents because of "unfavorable market conditions."
PetSmart.com, which operates the online division of pet-supply retailer PetSmart (Nasdaq: PETM), filed with the U.S. Securities and Exchange Commission in February to sell shares in an initial public offering (IPO) that would have raised about US$115 million.
Since then, the market for e-tail stocks has dried up, and several sites — including one-time competitor Pets.com — have gone out of business.
IPOs in general are on the decline, with six withdrawals this week for a total of 27 for November, according to IPO.com.
Pets.com, which raised more than $82 million in its own IPO earlier this year, closed up shop last month after a struggle to meet expenses. The company, which enjoyed the backing of Amazon.com, is selling its assets, including the right to its "Sock Puppet" marketing mascot.
Retail Arm Buys Stake
Two weeks ago, Phoenix, Arizona-based PetSmart said it would acquire a controlling interest in its online affiliate, paying $30 million for an 81 percent stake in PetSmart.com.
The arrangement is set to be completed in the first half of next year, with two $10 million cash installments and PetSmart's $10 million catalog business going to form an integrated direct-marketing subsidiary.
"The e-commerce division can now join us with a balance sheet that is sound, clean and has appropriate asset valuations, and we are poised to capitalize on the synergies of a unique, three-channel retail model," Petsmart chairman, president and chief executive officer Philip L. Francis said.
Trend Developing?
In absorbing its online affiliate, PetSmart is moving the way of brick-and-click alliances like Barnes & Noble, Inc. (NYSE: BN), which recently decided to work more closely with its e-commerce entity, Barnesandnoble.com (NYSE: BNBN).
PetSmart said that with the catalog business, PetSmart.com is on track for sales of $50 million this year. The parent company said that it sees no need for the e-commerce operation to seek future funding.
Losses Reported
PetSmart on Wednesday reported a third-quarter loss of $2.4 million, or 2 cents per share, which included a $6 million non-cash charge for PetSmart.com.
PetSmart itself struggled with a difficult retail environment during the quarter. The company is hoping to offset slow sales with the addition of services like grooming and training, which saw revenue rise during the quarter.