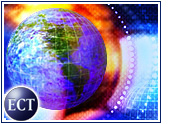 American businesses are ignoring online opportunities overseas — including the Asia-Pacific region, where Internet use is on track to outpace the United States within five years — according to a study released Thursday by Jupiter Research.
"Even though only a quarter of the global Internet population will reside in the United States by 2005, only one-third of American online businesses are targeting global markets," Jupiter said.
The Asia-Pacific region will be home to a third of the world's Internet consumers in 2005, according to the study.
Latin America is also on track for strong growth, according to Jupiter. The firm expects the region to account for 8 percent of the world's online population in 2005, up from 5 percent in 2000, as more people gain access to personal computers, and telecommunications companies improve service.
The U.S., which currently accounts for 36 percent of the worldwide Internet population, will make up 24 percent in 2005, Jupiter said.
Companies Unprepared
Nevertheless, a Jupiter survey of the top 20 Web sites in five categories — shopping, travel, search engines and portals, marketing and corporate, and news — found that two-thirds of U.S. companies have not made preparations for a global online marketplace.
The research firm said that "although American companies are beginning to venture into smaller, secondary markets, such as France and Italy, expansion into primary global markets, such as Germany and the United Kingdom, remains relatively low."
U.S. domain-name registrations in Germany and England have "increased very little" of late, Jupiter said. On the other hand, domain registrations by U.S. companies in France, Japan, Australia, Italy and Brazil have "soared," the firm said.
Basic Steps
According to Jupiter, U.S. companies should take basic steps to gain a foothold in growing overseas markets. Businesses, for example, could ally with local companies to gain understanding of consumer preferences, customs and business practices, as well as access to technology infrastructure and capital.
U.S. companies could also use domestic and European professional services firms, translation companies, globalization tools companies and systems integrators to make sure they are doing the right thing in international markets, Jupiter said.
Translating welcome pages and registering local domain names would also give companies an edge in international markets, the firm said.
"The gap in global Web development will ignite a fierce battle for leadership in the international Internet development and service space," Jupiter Research senior analyst Preston Dodd said. "While it is imperative for sites to gain foothold in these markets, they need to avoid a 'must-build' mentality, and enter these markets through strategic partnerships such as joint ventures and franchises."