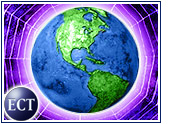 Although the globalization and localization (G&L) services industry has just begun making inroads with some e-commerce firms, it is already transforming the e-business economy worldwide, according to a report released Wednesday by IDC.
According to the research firm's survey of 20 G&L leaders, these vendorsforecast their service revenues will double approximately every 2.6 years.Following 23 percent growth in 2000, the companies project their servicerevenues will spike 39 percent to US$853 million this year and mushroom to$1.7 billion by 2004.
"With the emergence of the Internet and e-business as a viable mode ofconducting commerce, companies have been enabled and empowered to operate ona highly leveraged worldwide scale," said IDC senior analyst Alexander Motsenigos.
Buying and Merging
Like many of its e-business counterparts, the G&L industry has been swept bya wave of significant consolidation in recent years.
Roughly 20 percent of the firms interviewed by Forrester reported making at least one acquisition since their inception. As a result, the study saidthese 12 vendors are responsible for the merger of 86 companies.
"Consolidation will continue to reshape the G&L marketplace, adjusting tochanging customer requirements, solution dynamics and industry economics,"said Motsenigos.
Furthermore, IDC predicts that new G&L companies will emerge to fulfilldiscrete niche opportunities in the market.
Learning to Crawl
Although a host of online companies have looked to extend their reach worldwide, IDC said few have moved their global expansion plans beyond the infancy phase.
"Many businesses are at an immature stage in understanding how to interact within other cultures and countries, and they are unfamiliar with the range of challenges involved in establishing and maintaining a global enterprise," said Motsenigos.
Going Local
Separate data released last week by IDC highlighted the trend, showing that only one-fifth of e-commercefirms actually have multi-language sites, while the same proportion offerslocal or regional customer service representatives and call centers.
Most strikingly, more than half of the e-business executives told IDC that theyhad done nothing to localize their Web sites and Internet businesses.
Despite the sluggish G&L adoption rate, more than half of those surveyed by IDC said it was somewhat or very important for customer support on a Web site to be localized.
Revenue Leaders
Among the G&L services vendors interviewed by IDC, Lionbridge reported the highest revenues in 2000, at $105 million, narrowly edging Berlitz GlobalNET, which had $104 million. They were followed by Mendez, Bowne Global Solutions and Alpnet.
To compile data for its report, "Leaders and Innovators in thee-Globalization and Localization Marketplace," IDC surveyed 20 top vendorsabout the formation and direction of the G&L solutions industry.