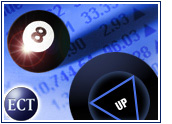 Nearly 60 percent of Internet executives planned to increase their Web site expenditures during 2001, according to a study released Thursday by IDC.
As part of a survey of its Internet executive advisory council, the Framingham, Massachusetts-based research firm said that although only 41 percent of the surveyed executives reported that their online businesses were profitable, more than half said that they expected to be operating in the black within six months.
E-business executives said that 64 percent of their firms' Internet earnings come directly from their Web sites, IDC said. Other revenue streams cited in the study include customer procurement systems and third-party sites.
The following benefits of online business were also cited by more than half of those surveyed: expanded sales channels, lower operational costs, better customer service, and rapid entrance into new geographic markets.
Bigger Slice
In line with these findings, the e-business executives interviewed for the study said they expect an increase in the percentage of total corporate revenue that their online businesses generate.
These findings dovetail with a separate report recently issued by IDC, which predicted that companies with established Web sites will see the proportion of revenue they receive from sales generated by the Internet double in 2001 from last year.
Specifically, that report forecast that e-commerce sales will represent 9.5 percent of total revenue for companies that already have an online arm, jumping from 4.7 percent in 2000. Factoring in companies that plan to launch a Web site within the coming months, IDC predicted the number will climb to 9.8 percent of overall revenue, compared to 4.4 percent last year.
Staying Local
Although a host of online companies have looked to extend their global reach, IDC said many often appear to be better at expanding their Internet sales channels than entering international markets.
"Looking at other geographic markets, the thought exists ahead of the action," said the study.
For instance, more than half of those surveyed said it was somewhat or very important for customer support of a Web site to be localized. However, only one-fifth of companies actually have multi-language sites, and a similar percentage said they offer local or regional customer service representatives and call centers.
Strikingly, more than half of the e-business executives told IDC that they had done nothing to localize their Web sites and Internet businesses.
Campaign Initiatives
E-business executives continue to view advertising campaigns across traditional media channels as the most effective method for steering customers to their Web sites, IDC said.
According to IDC, the best online customer acquisition drivers identified by Web business managers were television, radio and print spots, as well as direct mailings.
Web site sponsorship ranked also found its way into IDC's top-five most successful means for attracting customers.