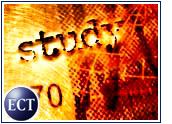 Security concerns and a lack of confidence in customer service are still the main issues keeping consumers from making online shopping a habit,according to data released Friday by NFO Interactive.
Seventy-two percent of people surveyed for the firm's "2000 Online Retail Monitor" study who said they were unlikely to buy anything online also said they were concerned about security.
"The perceptions definitely are that on the Internet, security is on a much higher risk level," NFO Interactive vice president Ann Green told the E-Commerce Times.
To combat those fears, companies need to educate consumers about the relative risks, Green said.
"I think right now it's an issue of, you fear what you don't understand," she said. "If [companies] could increase comprehension of what shopping onlineis all about, I think consumers will come."
Risky Business
Despite consumer fears, the study found that online shopping is gaining in popularity. Eighty percent of the Internet users surveyed said they haddone some business online. In addition, virtually all of the survey respondents had used the Web at some point in the shopping process, NFO Interactive said.
Some fears about online security are warranted, in light of the well-publicized break-ins andhacking incidents, said Green.
However, Green noted that shoppers "need to realize that calling an 800 number and providing their credit cardnumber is also a risk."
Privacy Policies
Of course, credit card fraud is just the tip of the iceberg when it comes to online security. Consumers are also concerned that information aboutthem will be sold to other companies and spammers once they make Internetpurchases, the study indicated.
Companies should be more up-front about their privacypolicies in order to alleviate those concerns, Green said.
E-Mail Service
In addition to security and privacy, customer service remains a big issue for Web shoppers and would-be e-shoppers alike.
Forty-one percent of thosesurveyed said they would feel more confidence in a site if they could e-maila sales representative, and 45 percent said they would visit a site moreoften if that e-mail received a response within 12 hours.
Companies should let customers choose the mode of communication withcustomer service representatives, said Green. "The channel of communicationhas to be varied depending upon the point of contact," she said.
Customers, according to Green, prefer to communicate in real time via e-mailwhile placing an order or in the process of online shopping. Once the purchase hasbeen made, however, most people would rather call the Web merchant than send e-mail.
Better Technology
According to Green, better software and services have allowed e-tailers to improve their customer-service options.
"Historically, they've been mostlyInternet-based," Green said. "The notion of getting a phone centerestablished, for the pure-plays, has been very late in coming."
Though money is "very, very tight" for e-tailers, they would nevertheless dowell to devote a good portion to customer service, added Green, noting that companies that cannot or will not spend enough "will definitely have a harder road."
Shopping agents, such as MySimon.com, were used by about 16 percent of thosesurveyed. However, most used the services for product comparisons, ratherthan to find the lowest price for an item, the study found.
"A lot of the smarter shopping bots have realized" the trend, and are including more services suchas product reviews to attract users, Green said.
The Online Retail Monitor is a biannual study conducted by NFO Interactive that examines the buying habits, attitudes and trends in online retailing. A total of 2,134 online users, both buyers and nonbuyers, took part in the year 2000 study.