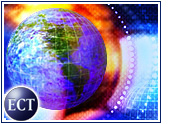 Businesses around the world that have established Web sites can expect to see the proportion of revenue they receive from Internet-generated sales to double in 2001 from 2000, according to data released Thursday by IDC.
"The value of sales influenced by the Internet is growing," said the Framingham, Massachusetts-based research firm.
Specifically, the report forecast that e-commerce sales in 2001 will represent 9.5 percent of total revenue for companies that already have an online arm. In 2000, that figure was 4.7 percent.
Factoring in companies that plan to launch a Web site within the coming months, IDC predicts the number will climb to 9.8 percent of overall revenue from 4.4 percent last year.
To compile statistics for its eWorld study, IDC surveyed approximately 15,000 sites with information technology departments in 27 countries. The report did not differentiate between transactions that are conducted entirely over the Internet and purchases that are eventually completed offline.
Success Stories
Among the countries cited by the report as leaders in the share of revenue attributed to Internet sales are the United States, Korea, Japan and Mexico, with each expected to hit or exceed the 10 percent mark this year.
Mexican businesses outpaced those in other nations, estimating that Internet-influenced sales will account for roughly one-fifth of total earnings in 2001.
By the end of the year, the study projected that nine countries — including Argentina, Australia, the Netherlands, Norway and South Africa — will be home to businesses that generate more than 8 percent of their revenue from the Internet.
E-Marketplace Growth
Although IDC said there did not appear to be a "single clue" behind the success some companies have had in stimulating sales via the Web, the research firm pointed to several possible reasons for the growth.
Chiefly, the study found that selling through e-marketplaces appears to catching fire, with more than one quarter of all companies worldwide indicating they plan to participate in online exchanges within a year.
However, IDC noted that many countries already far exceed that figure. Once again, Mexico is a frontrunner, with 58.4 percent of those surveyed responding that they will enter an e-marketplace.
By comparison, U.S. companies lagged far behind, coming in next to last among the top nine countries, with 17.3 percent reporting that they will sell through Internet marketplaces in the near future.
E-Biz Adoption
In terms of infrastructure, IDC said companies that have a high percentage of in-house computers connected to the Internet may play a part in active e-commerce adoption. Leading this category is Korea, where businesses said that 82 percent of their computers can access the Web.
The report also said that while posting multiple languages on a Web site could expand business, it did not seem to be a "particularly pertinent factor" in bolstering online sales.
"The challenge of maximizing revenue over the Internet remains because there appears to be no magic bullet," said IDC. "But it's undeniable the Internet is rapidly entering the mainstream of businesses in several countries."