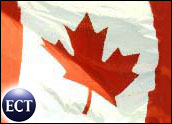 Despite an accelerating rate of e-tailer closures, e-commerce spending in Canada increased by 73.4 percent in 2000 over 1999, according to a study released Tuesday by Statistics Canada (Statscan), Canada's census agency.
The increase occurred even though five Canadian companies shut down their e-tailing operations for every two that started selling online, the "Survey of Electronic Commerce and Technology for 2000" found.
The study also revealed that the percentage of businesses selling online had dropped from 10 percent in 1999 to 6 percent in 2000.
Statscan economist Greg Peterson told the E-Commerce Times that the majority of Canadian companies that stopped selling online in 2000 did so because their customers and suppliers were not ready to do business online.
Among Canadian companies that did not buy or sell online, 56 percent believed that their goods or services did not lend themselves to Internet transactions. Other reasons cited for avoiding e-commerce were a desire to maintain their current business model (36 percent), security concerns (14 percent), and the high cost of development or maintenance of a Web site (12 percent).
Positive Signs
Even though the proportion of companies selling online had dropped, other e-commerce indicators in Canada are positive, Peterson said.
Online spending in Canada jumped from US$2.7 billion, or 0.2 percent of total operating revenue, in 1999 to $4.6 billion, or 0.4 percent of operating revenue, in 2000.
Additionally, although the number of companies selling online dropped year over year, the number of companies with a Web site increased from 22 percent in 1999 to 25 percent in 2000.
Who's Buying
Statscan also found that the percentage of businesses purchasing goods or services online had increased from 14 percent in 1999 to 18 percent in 2000. Overall, 80 percent of online sales were made to businesses rather than consumers.
The percentage of Canadian businesses buying online increased in all sectors, except for holding companies, where the percentage dropped from 12.9 percent to 8.5 percent, and businesses in forestry, logging, and support activities, dropping from 7.4 percent to 4.5 percent.
The sector with the highest proportion of companies buying online was the information and cultural services sector, where 53 percent of companies purchase online.
Consumers Sales
Although consumers accounted for only 20 percent of e-sales overall, the percentage of goods bought by consumers varied widely by sector.
Statscan found that consumers accounted for 88 percent of Internet purchases in the category of arts, entertainment and recreation, and 73 percent in the accommodations and food services sector.
By contrast, 3 percent of e-sales were made by manufacturers to consumers, and 27 percent of sales by wholesalers were to consumers.
Who's Selling
Most likely to be selling online in Canada were large businesses with more than 500 employees, according to Statscan.
The survey found that 31 percent of large businesses were selling online and were responsible for 43 percent of all online sales. Six percent of businesses with one to 19 employees sold online.
Export Rates
Seventeen percent of total Canadian e-sales went to customers located outside of the country.
However, this percentage varied widely across industries, with just 3.2 percent of Internet sales by retailers being for export.
On the other hand, more than 50 percent of e-commerce sales in professional and technical services; arts, entertainment and recreation; and accommodation and food service went outside Canada.