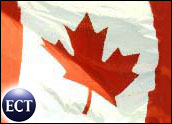 Despite the general reluctance of Canadians toshop online, there are new signs of e-commerce growth in Canada.
"Towards the end of this year, we'll really start to see the critical mass(in Canada) starting to adopt online shopping, and on the business-to-business side as well we expect a lot of growth," Forrester Research analyst Jordan Kendall told the E-Commerce Times.
Even so, other analysts point to consumer disposition, taxation issues,shipping barriers — and the overall lack of consumer choices online in the country — as major obstacles to the growth of Canadian e-commerce.
"Canadians are slightly more reluctant to shop online (than Americans)," Gartner Group analyst Rob Labatt told the E-Commerce Times. "As anation, they are less consumer and consumption oriented. Part of that isthe higher taxation level, part is the national predisposition for moderateconsumption."
That is not to say Canadians are adverse to the Internet. According to Forrester, cable modem Internet penetration in Canada is higher than in theU.S. So, too, is the use of the Internet to conduct financial transactions.
Conversely, Americans are much more likely to use the Internet for shopping than for financial transactions, Forrester found.
Shipping Shape
Additionally, in contrast to the U.S., where shipping costs for online purchases are considered too high, the cost of e-commerce shipping in Canada is viewed as an incentive for Internet sales.
"The shipping costs within Canada are a lot lower, and exchange rates make it cheaper to shop in Canada, but there's a distinct lack of choice inCanadian retailers," Kendall said.
"A lot of American sites don't support Canadianshoppers," Kendall added. "They don't convert currency or ship to Canada, so it's difficultfor Canadians to find goods, or know what it's costing them."
Add regional differences and language barriers to the mix, and it's easy to seewhy adoption rates of online shopping in Canada lag behind the U.S. byabout nine to 12 months.
New Horizons
Still, Internet use and online shopping are beginning to pervade the Canadianlandscape. According to a report released recently by StatisticsCanada, an estimated 3.1 million people — about one-quarter of all Canadianswho surf the Internet — bought goods and services online in 2000.
In addition, the report found that an estimated 79 percent of men and 70 percentof women searched the Internet for information on goods and services.
Forrester has predicted that Canadian household e-commerce spending will nearly tripleby 2004, up to US$11.3 billion. E-commerce participation will jump from themere one-tenth of Canadian households that bought online in 1999 to almost30 percent by the end of 2001, Forrester said.
Border Patrol
Why the optimism? In the fourth quarter of 2000, two of Canada's largestretailers, The Bay and Canadian Tire, hopped online. Also, there is one newCanadian player who's already having a major impact on thefacilitation of trade between Canadian buyers and U.S. e-tailers.
Borderfree.com works with U.S. retailers to globalize sites by providingthem with an application that helps solve their Canadian pricing, logisticsand shipping issues. According to the company, Borderfree orders increasedby more than 200 percent during the past holiday season because of theability of Canadian consumers to shop on U.S. Web sites.
"There will be a lot more choice available to Canadians who want to shoponline, which will help increase (online shopping) penetration as word getsout that shopping from U.S. sites is easier," Kendall said. "As that happens, it will beharder for Canadian retailers to ignore the trend."
Come Together
However, U.S. sites must let Canadians know that they are open for business if they intend to take advantage of these new opportunities.
"U.S.-based Web retailers need not only to advertise their brands in Canadabut to make it clear that they accommodate Canadians with prices in Canadian dollars and easilyaccessible shipping information," Forrester said in a report.