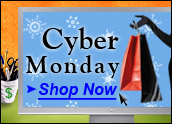 Online shoppers took to their computers in droves on Black Friday, spending 11 percent more than they did a year ago and buoying e-tailers' hopes for a bountiful holiday season.
That's according to a report released Sunday by market research firm comScore, which counted US$595 million in online sales on Friday, making it the second-heaviest e-commerce spending day this year so far.
Some $10.57 billion has been spent online since November began, representing a 3 percent increase over the corresponding days last year, comScore said.
A 'Very Encouraging Start'
"Black Friday, better known as a shopping bonanza in brick-and-mortar retail stores, is increasingly becoming one of the landmark days in the online holiday shopping world," said comScore chairman Gian Fulgoni.
This year's results were a "very encouraging start" to the online holiday shopping season, Fulgoni added.
Factoring in the brick-and-mortar shopping world, the overall picture is not quite as clear. The number of shoppers was up, but on average, they spent less than they did last year, according to the National Retail Federation (NRF).
Specifically, 195 million shoppers visited stores and Web sites over Black Friday weekend, according to an NRF survey, up from 172 million last year. The average spending per shopper, however, dropped to $343.31 per person from $372.57 a year ago, it found.
"While retailers are encouraged by the number of Americans who shopped over Black Friday weekend, they know they have their work cut out for them to keep people coming back through Christmas," said Tracy Mullin, NRF president and CEO. "Shoppers can continue to expect retailers to focus on low prices and bargains through the end of December."
Black Friday Bargains
Indeed, promotions and special Black Friday discounts likely drove at least part of the jump in online spending that day, comScore asserted.
comScore studied eight Black Friday deal sites for the five days ending Nov. 27 and found that the most popular of those — BFads.net, with 3.9 million unique visitors — was up 4 percent over last year.
BlackFriday.info followed with 3.5 million visitors, while Black-Friday.net — which was up 136 percent to 2.3 million visitors — showed the fastest growth.
"Cyber Monday — the traditional kickoff to the online holiday shopping season — and the subsequent weeks will be the real test for how online retailers fare this season," Fulgoni concluded.
Hopes High for Cyber Monday
So far, the outlook is good, according to the NRF.
Some 96.5 million Americans are planning to shop online this year on Cyber Monday, up from 85 million in 2008, according to a survey conducted for Shop.org, the NRF's digital division.
"Online retailers have been working overtime to make sure their Cyber Monday promotions are enticing, so shoppers can expect incredible bargains on popular holiday items, percentages off entire Web sites, and a lot of free shipping," said Scott Silverman, the division's executive director.
Nearly nine in 10 retailers are planning special promotions for Cyber Monday, according to Shop.org.
'Sales Could Peter Out'
What the remainder of the holiday shopping season will bring, however, is harder to tell.
Online holiday sales overall will grow 5.4 percent this year compared with last year's figures, eMarketer Senior Analyst Jeffrey Grau told the E-Commerce Times.
Nevertheless, with all the discounts currently on offer, "people could end up doing the bulk of their purchasing early, so sales could peter out as the year goes on," Grau explained.
So, while the 11 percent increase comScore found on Black Friday "bodes well and shows that a lot of people see the Internet as a serious alternative to store shopping," Grau concluded, "it's hard to say what will happen in December."
'Still Lots of Shopping to Be Done'
Shop.org is "expecting shoppers' appetite for bargains to be incredibly strong, and we know retailers are coming to the table with lots of sales and incentives," Ellen Davis, vice president with the NRF, told the E-Commerce Times.
"Do we expect that to continue? Maybe on a more subdued level," she added.
The biggest week for shopping will likely be that of Dec. 14, Davis predicted, since that's when many free shipping offers will expire.
The good news for retailers is that "according to our research, shoppers have done slightly less of their shopping than they had" by the same time last year, she pointed out. "That's encouraging, because it means there's still lots of shopping to be done."