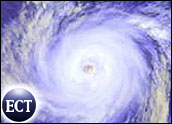 Media chain Landmark Communications announced Thursday that it is investigating the possible sale of its businesses, including the Weather Channel and Weather.com.
Landmark has retained investment banks J.P. Morgan and Lehman Brothers to assist in exploring strategic alternatives, the company said. Potential suitors for the Weather Channel and Weather.com, which together could bring in as much as US$5 billion, include NBC, News Corp. and Comcast, according to a report in the New York Times.
Launched in 1982, the Weather Channel is currently one of the last privately owned cable channels.
Continuing Investments
"At this early stage, we cannot speculate on where this process will lead," said Landmark chairman and CEO Frank Batten, Jr. "We will consider various options and, at the end, we will advise employees and customers of our conclusions.
"Landmark's weather, publishing, broadcasting, interactive and information businesses all have leading positions in their markets and have strong growth opportunities," Batten added. "As we go through this process, we will continue to invest in these operations."
Based in Norfolk, Va., Landmark is a privately held diversified media and business services company with interests in cable programming, newspapers, broadcasting, specialty classified advertising products, interactive marketing, information, broadband and data services.
The company generated $1.75 billion in revenue in 2006 and has 12,000 employees, according to Hoover's.
Broad Reach
The Weather Channel's Weather.com was the 16th most popular U.S. Web site in November, with more than 34 million unique visitors that month, according to comScore Media Metrix. Facebook, by comparison, ranked in 17th place, with roughly 33.7 million.
In addition to the Weather Channel and Weather.com, Landmark's holdings include WSI Corporation, which provides business-to-business weather services; CBS-TV affiliates NewsChannel5 Network in Nashville, Tenn., and KLAS-TV in Las Vegas; Q Interactive, a leading Internet-based direct marketing company; several franchise recruitment Web sites; and Continental Broadband.
Landmark's newspapers include The (Norfolk) Virginian-Pilot, the Greensboro, (N.C.) News & Record, The Roanoke (Va.) Times, and Capital-Gazette Communications, which publishes more than 50 community newspapers. Landmark also owns Dominion Enterprises, a media and information services company serving employment, real estate, automotive, recreation and industrial markets.
'A Multimonth Process'
Landmark officials met with staffers at the