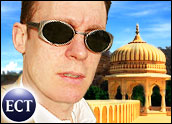 Challenges facing new offshore call centers can spill over and impact clients and customers of those clients. Driven by cost considerations and the availability of personnel, U.S. firms are increasingly turning to offshore call centers — but are often doing so without fully understanding the constraints facing those facilities.
Here we explore the challenges facing a new 24-seat call center in Navi Mumbai called Purple Support Services. The initial technology challenges facing Purple, as described earlier here, are being resolved. But greater challenges remain, including market development, cash flow, location factors and management issues. We examine each of those challenges below, beginning with market development.
Market Development
Market development is the most challenging aspect of launching a commercial call center offshore, after initial technical challenges are addressed. For new centers without a demonstrated track record, market development from offshore locations can easily prove their undoing.
Mark Lewitt, an American operations manager at Mumbai-based Godrej Upstream, said that a new call center must spend a minimum of US$2,000 to $3,000 a month for at least six months on advertising and marketing expenses to be able to bring legitimate business in to their center.
"With new centers competing with literally thousands of other call centers in India," Lewitt said, "it is critical to set aside some money for marketing and sales activity before the center even starts."
Whereas Lewitt's budget estimates might be adequate for small, new call centers such as Purple, for facilities with rapid ramp-up schedules or whose managers intend to shift quickly into high-value inbound work, those estimates might need to be increased by as much as a factor of 10. At centers seeking high value work, even more funds would need to be allocated for U.S. trainers onsite and for process migration assistance. Otherwise, program failure could result.
Offshore call centers often have a limited period in which to demonstrate initial success in order to qualify for decent outsourcing contracts from U.S. clients. In placing programs from U.S. firms at offshore facilities, I often hear the same set of four prequalifying questions from clients:
Have you ever run an outsourcing program at this facility before?
What type of program was it?
How did it turn out?
Was the facility's performance satisfactory?
If the answer to the first question is "none" or if the answers to the third or fourth questions are less than enthusiastic, then credibility damage will result. Loser facilities accepting initial tester programs often fail to understand how crucial it is for them to have an outstanding performance. Otherwise there are no second chances.
Sales Cycles
The availability of new business for merchant facilities is usually governed by the sales cycle for awarding outsourcing contracts. The sales cycle for flat rate or inbound business from the U.S. has traditionally ranged between six to 18 months. When faced with the need for drastic cost control measures, U.S. firms have been asking for the entire outsourcing cycle to be completed within two days, including prequalification and contract writing.
New centers might not prequalify for higher value work unless the client is ready to send training staff to the facility — either their own staff or those recruited from a project management firm. Or, as in the case of facilities such as Purple, clients might have established a good track record with the facility's managers from those managers' tenures at other facilities.
UK project experience is not transferable to the U.S. or to building a U.S. client base. "U.S. customers will often hang up right away, while British ones will listen all the way through before politely declining," said Gina Jones, former operations manager at an InternationalStaff.net contract facility in Hyderabad.
British people will not tolerate incorrect diction, accent, or word choice, Jones said, whereas Americans are much more forgiving. "But Americans will often use bad language," she added.
Indian call centers view the U.S. market as several times bigger than the UK market, even with the federal Do Not Call List and with Indian call centers focusing their telemarketing campaigns on the 28 U.S. states with the most lenient compliance environments.
Cash Flow
Cash flow determines whether a center will have the opportunity to survive its other challenges. IT facilities that are divisions of old-line Indian firms will often be kept alive by those firms cross subsidizing a call center or software development center. This is often driven by the tax advantages enjoyed by IT firms in India.
If an Indian company is channeling a disproportionate share of its earnings through its IT subsidiary, then it is likely that the quality and reliability of that subsidiary's services will be less than that of a pure IT firm.
Cash flow for small, new centers such as Purple is complicated by the high prevalence of fraud among brokers placing outbound programs that are often undertaken by such new centers.
According to Jones, over 100 call centers in India have recently reported that they were defrauded by brokers placing customer-acquisition programs for telephone companies in the UK. The brokers control the cash from the clients and after a couple months begin siphoning off most of the payments that are due the Indian call centers.
To reduce the risk of fraud, Purple's manager, Mahesh Iyer, chose a starter program with which he was already familiar, from a client with a good reputation.
Location Factors
Purple is located in Navi Mumbai's International InfoTech Park. This is the same building that houses Tracmail, a large, established call center where Mahesh got his start in the industry. This type of setting is unusual for a small, new call center, because most such start-ups locate in low-rent areas.
Purple's proximity to other call centers provides it with readily available access to redundant high-speed telecommunications lines, technical support services and backup power generation, all of which are essential for service reliability. It is also in a safe, modern area, where people can walk around outside at night.
Call centers are driven by the availability of staff near their locations. Labor market conditions in the Mumbai area, while tightening, will allow Purple to quickly upgrade the size and quality of its staff as it begins to shed simple outbound work in favor of more sophisticated inbound customer service programs. Thirty-five million people live within commuting distance of Purple, more than the entire populations of Canada or Australia.
Management Issues
"There are lots of kids with only two years of experience who are starting call centers now," Jones said. By kids, Jones means people who are under 25 years old who are seeking to take advantage of India's outsourcing boom. These individuals can be energetic and persistent in reaching out to potential U.S. clients, particularly those new to offshore outsourcing and who might not be able to recognize sub-par facilities quickly destined for failure.
Whereas at my company, InternationalStaff.net, we have largely stopped supporting small, new call centers, Jones frequently receives requests for assistance from the owners of such operations. Her complaints are typical of encounters with inexperienced managers at small, new call centers in a host of developing countries:
They do not know how to sign contracts with U.S. clients or with vendors.
They do not know how to protect confidential information.
They do not understand non-circumvention considerations.
They cannot communicate properly with U.S. clients.
They have limited or no U.S. business experience.
They often come from backgrounds that have little or nothing to do with customer service.
They do not understand how outsourcing for Western clients is commonly conducted.
As governments in developing outsourcing destinations elsewhere encourage local investors to enter the international call center industry, the Jones list above will inevitably come to apply to a significant portion of the call centers starting up in South Africa, the Philippines, Sri Lanka, Kenya, Ghana, Dubai, Pakistan, Guyana and Mauritius.
"The new little players just want to make quick money, hire a dialer and use pirated software," Jones said, referring to many of the start-up centers she has seen in India.
Tiny new centers are often so small that the computer monitors are almost touching each other. In such cramped quarters, it is impossible for agents to concentrate during calls. They do not have the advantages found in larger outsourcing operations, like those that have been the subject of most of the press coverage in the West regarding Indian call centers.
"These new entrants often do not understand the business," Jones said, adding, "They think it is easy to run a call center."
To recruit agents, she said that the new entrants' usual approach is to offer to pay INR 1,000 or 2,000 ($23 or $46) more per month than other firms. She has been receiving offers of INR 18,000 ($413) per month to serve as an operations manager for some of the small, new centers in Kolkata.
"Most of these [smaller] centers only stay open for two-and-a-half months," Jones said, "and [they] close because of management problems."
"They don't understand the need to maintain client satisfaction from the very start."
Goals
Purple's chances of success hinge on its ability to accomplish three objectives:
To overcome initial technology problems.
To progress out of entry-level programs.
To distinguish itself from established market players.
Purple's principal advantage is the track record that its manager Mahesh has previously established with U.S. clients. Its competitive price advantages and suitability for small outsourcing programs, which could easily be neglected at large call centers, provides Purple with niche opportunities — particularly for small sophisticated projects. However, given the 90 percent failure rate that Indian call centers experience, Purple's success is by no means assured.
Purple is taking the hard route to success, seeking to progress up from small simple outsourcing programs to larger, more advanced ones. Attempting to market outsourcing services remotely to the U.S. from India compounds the center's challenges.
Will Purple succeed? You can post your response in the Talkback section below.
---
Anthony Mitchell
, an E-Commerce Times columnist, has beeninvolved with the Indian IT industry since 1987, specializing through
InternationalStaff.net
in offshore process migration, call center program management, turnkey software development and help desk management.
---
---

Click here for Part 1 of "Starting an Indian Call Center"
---