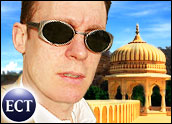 New information technology outsourcing opportunities are largely going to India, thanks to India's long-standing advantages. Despite negative press coverage that India has received for problems at a few outsourcing facilities, India is set to maintain its lead as the high-tech outsourcing destination of choice for U.S. clients.
India has the advantage of quality, price competitiveness, infrastructure, economic diversity and a vibrant corps of Western expatriates embedded as managers in Indian information technology (IT) firms. India's quality and price advantages are detailed herein.
IT Cultural Revolution and the Rush to Quality
The drive for market share in the global IT outsourcing market has produced more CMM Level 5 software centers in India than anywhere else in the world. CMM is the highest level achievable under the Capability Maturity Model, a quality system standard developed by the Software Engineering Institute at Carnegie Mellon University. Indian managers realized that economic benefits would be gained by quality improvements and have energetically pursued those benefits.
The conception of quality is undergoing a sea change at Indian IT facilities. At non-Indian IT outsourcing facilities offshore, quality is often seen as part of a larger process, attended to and owned by the macro level of each organization. In those settings, as in government owned firms in India, the individual merely needs to follow procedures to comply with quality standards.
In a dramatic departure with old-style Indian management techniques, the IT industry has shifted the locus for quality down to individual people and individual actions. Ten years ago, Western clients would often complain that instead of merely having IT facility managers take ownership for the overall quality, Westerners simply wanted every individual in their offshore contractor's organization to take ownership for each phone call, each e-mail and each trouble ticket that came their way.
Before the outsourcing cultural revolution broke out in India in the last half of the 1990s, when a problem or question came to an employee, it was considered proper for that employee to refer that problem to someone else for resolution. People would feel as if they had done their job properly if they made referrals rather than taking the initiative to fix a problem or answer a question themselves.
The IT workforces in India, particularly younger managers, are increasingly adopting U.S. approaches to quality and individual initiative. This makes the outsourcing process easier to launch and maintain. It has enabled Indian facilities to cross the trust threshold with many of their U.S. clients.
How Sub-Par Facilities Hold onto Clients
Even Indian outsourcing facilities operating at moderate levels of quality have been able to hold onto U.S. clients by establishing good long-term customer relationships. Once a call center or data processing firm has established a good track record with an American client, that client is likely to continue working with that firm unless their prices or quality takes a serious turn for the worse. This is true at both U.S. domestic and offshore call centers.
American clients of call centers will usually continue working with an outsourcing facility that is not always up to par with service quality — as long as such clients believe that the facility's managers are quick to respond to client concerns.
Although it spent a few years floundering after a modest start in 1999, the Indian commercial call center industry has climbed out of its infancy. Clients with the patience to support their offshore contractor operations in India and to budget for adequate training and ramp up periods have often been rewarded by increases in quality and performance.
Increasing Domain Expertise
Call center and software firms in India are well positioned for continued quality and process improvements. This is due, in part, to continuing improvements in their domain expertise. Domain expertise refers to knowledge of the subject areas in which people work.
New software and call center firms starting up offshore often lack focus or domain expertise. Lack of domain expertise adds hidden costs to U.S. clients, who must spend time transferring domain expertise to their offshore contractors.
By specializing and not attempting to do everything, Indian software and call center firms have often been able to gain domain expertise, establish proven track records within those domains, and to provide both better quality outputs and better value for money for their clients.
Long-Term Price Competitiveness
Costs have been increasing in India and will continue to do so for ingredients such as labor, land and taxes. However, India will remain a cost-competitive destination because of high initial value propositions and because of unrealized opportunities for cost control.
Voice services and non-voice back office processing work (also called business process outsourcing or BPO) are more price sensitive than software development. Redirection of outsourcing work away from India would be understandable for cost reasons, yet the price per production (login) hour at many top-tier Indian centers has fallen from US$18 per hour four years ago to $15 an hour or less today. Prices charged to U.S. clients for training time at Indian facilities have also dropped.
There are opportunities for cost control beyond mere reductions in hourly charges. In 2001, when my firm began sending voice work to India, we could not find one call center there that owned an interactive voice response (IVR) system in the U.S. to enable the center to handle customer inquiries before routing a call overseas to a live agent. The industry at that time was not attuned to clients' needs to reduce talk time and therefore clients' costs.
Indian outsourcing firms have become increasingly sophisticated about using technology to achieve lower costs and better services for U.S. customers. Now completely automated inbound call handling solutions for domestic U.S. customers are cheaper and more seamless from Indian providers than U.S. ones.
The head start that India has over other outsourcing destinations has given its IT workforce a head start on building up a professionalism and competence that will enable that workforce to provide better value for money in the coming years, despite wage increases. Whereas the call center workforce in some areas of India has experienced annual turnover rates of 50 to 100 percent, the annual turnover rate at software firms such as Infosys has remained a staid 10 percent.
Sophisticated Performance Metrics
Indian outsourcing firms have become increasingly proficient at working with U.S. clients to reduce the average cost per call. Performance metrics such as average speed of answer, average length of call, first-call resolution rates, and customer satisfaction data are receiving increasing and well-deserved attention across wide sections of the customer service industry in India. The sophistication of metrics reporting now seen at Indian call centers often rivals or exceeds what is available from North American providers — many of whom are working with older and less sophisticated equipment than is in use at newer Indian facilities.
The quantitative focus on performance metrics is giving Indian call centers the ability to drive costs down for customers. It provides Indian call center professionals with skill sets that they are taking with them on international training and consulting assignments in Pakistan, Sri Lanka, and Dubai.
The proficiency and high-level capabilities that many Indian IT professionals are capable of demonstrating on a consistent basis is evidenced in the rise of Indian-based IT project management firms such as eBusiness India, who are my direct competitors. A few years ago I would not have paid much attention to them. Now their performance capabilities are equaling or exceeding what Americans can do.
Low Currency Risk
The declining value of the U.S. dollar has been a concern at offshore facilities in South Asia. Kurian James, who directs an InternationalStaff.net contract facility in South India, jokingly remarked that if the U.S. dollar loses any more of its value, then he will be able to afford an American chef. However, the U.S. dollar has not lost significant value against the Indian Rupee, particularly when compared to other currencies such as the Euro.
The U.S. dollar's loss in value to the Euro has been fluctuating between 30 percent and 40 percent over the last three years. Both currencies have lost value compared to gold. Changes in the value of the Indian Rupee to the dollar have been comparatively mild, with exchange rate now at a little more than 43 Indian Rupees to the dollar. Two years ago the rate was a little more than 47 Rupees to the dollar.
All the outsourcing contracts from the U.S. to India that I have seen are in U.S. dollars. All the ones that I have written have provided no allowance for reductions in the value of the U.S. dollar. This reduces risks for U.S. firms from additional currency fluctuations and adds to India's attractiveness as an outsourcing destination compared to destinations such as Canada.
In summary, the Indian IT outsourcing industry's advantages as an outsourcing destination include overall quality, good value, increasing domain expertise and increasingly sophisticated performance metrics and program management skills. Other countries might challenge India's IT outsourcing lead, but India stands ready to maintain its position as the top outsourcing destination for many years to come.
---
Anthony Mitchell
, an E-Commerce Times columnist, has beeninvolved with the Indian IT industry since 1987, specializing through
InternationalStaff.net
in offshore process migration, call center program management, turnkey software development and help desk management.
---