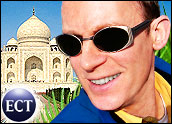 Has India's information technology (IT) outsourcing boom peaked? There have been predictions that India will lose most of its outsourcing firms in the next two years. IT industry wages in India reportedly rose an average of 12 percent in 2004 and are projected to increase by another 15 percent in 2005.
New outsourcing destinations have been receiving attention recently, with South Africa, Pakistan, Sri Lanka, Mauritius, Kenya and Ghana entering international markets alongside established destinations such as Canada, Ireland, Romania, Mexico and the Philippines.
Negative Coverage
Problems at outsourcing facilities in India have been the subject of negative press coverage, such as Conseco insurance company's decision to sell off its Bangalore facility at a loss and the recent arrest of three former call center agents at the MphasiS call center in Pune who are accused of stealing money from Citibank customers' bank accounts.
Failures at individual facilities in India, particularly call centers, have prompted some Western clients to look for alternatives. However, larger trends indicate that India is set to continue to grow in volume and scope. Here we explore the reasons behind the Indian IT outsourcing industry's continued growth.
Unfair Comparisons
Some of the poor press coverage that the Indian IT outsourcing industry has received has been generated by comparisons between the best IT facilities elsewhere with the worst facilities available in India. I have been guilty of contributing to this coverage, based on experiences placing some low-end call center outsourcing programs into low-end Indian centers. However, from the perspective of a client and a broker, Indian outsourcing centers will continue to receive the bulk of my high quality IT outsourcing business going offshore.
In Karachi, Pakistan, I recently met Rohit Shukla, founder of the Larta Institute in Los Angeles, which from 1993 to 2004 served as the official commercialization agent for the State of California and now provides outsourced go-to-market services for clients worldwide, including the U.S. National Institutes of Health.
Originally from India, Shukla helped launch and continues to manage the Southern California Venture Forum, which this year is being held on May 25-26 at the Wilshire Grand Hotel in Los Angeles.
Different Path
Shukla and I have been in discussions with the government of Pakistan on strategies for expanding its IT industry and on what can be learned from India's success. We met with facility managers, such as Anwar Kazi, the U.S.-educated CEO of ALT Source Communications in Karachi. Kazi said that other developing countries are now looking to imitate India in the IT field, rather than follow the path of the U.S.
In contrast, Shukla said that Pakistan and other countries in the region cannot exactly follow India's path. To understand Shukla's perspective calls for an understanding of what India's international IT outsourcing path has been.
Between 2001 and 2003 there were widespread call center outsourcing failures from the U.S. to India. Indian facilities at that time were often hard to work with, requiring more management attention, especially the newer ones. As a result, some American clients were paying 15 to 20 percent less for work to be done from India compared to anywhere else in the world.
Scale To Fail
"India can afford to fail 15 million times," Shukla said. He compares Indian industry to the Chinese Army, which is so big that it can afford to waste tremendous resources in order to gain ground.
"India has the scale to afford to fail," Shukla said, "Pakistan and other countries competing with India do not." If too many firms from a country such as Pakistan or Sri Lanka rush into the international IT market and fail to deliver properly, then it will give that entire country's IT industry a bad name and make it harder for everyone from that location to receive a fair hearing in the global marketplace. This phenomenon is being played out now in Mauritius.
India no longer faces such a risk, Shukla believes. "India has not only become a superpower, it has integrated itself into the firmament of the world economy, of the world mindset," Shukla said. Pakistan and other new entrants to international IT markets have not.
In the language of Silicon Valley venture capitalists, India has achieved critical momentum, escape velocity. In U.S. boardrooms, a common question asked by directors to corporate managers is: "What is our Bangalore strategy?"
Diversification Helps India
Software and call center services are not the only high-tech industries booming in India. India's economy is growing in a host of high-tech fields, including the life sciences, automation controls, aviation and satellites, robotic vision, computer hardware, and automotive components.
Software and IT services account for more than 18 percent of India's exports, and according to Shukla are expected to reach 30 percent or more in the next couple of years. Bangalore alone employs more high-tech workers than Silicon Valley, Shukla said.
The country is bolstered by high amounts of tax receipts, a high investment rate, a surplus in international balance of payments, and more than $130 billion in foreign exchange reserves (excluding gold). India's exports of manufactured goods surged by 24 percent in the last half of 2004. Three new special economic zones (one in Kolkata for IT and two in the former French colony of Pondicherry for automobile manufacturing and automotive parts) and simplifications in export licensing requirements are expected to accelerate these trends.
Other countries in the region lack the diversification and global economic connections that India has established. Textiles and finished garments form the bulk of exports and foreign exchange earnings for Pakistan, Sri Lanka and Mauritius for example. With the elimination of tariffs and China's competitive position in those industries, there is a risk that South Asian countries will suffer reductions in foreign exchange earnings, hampering their ability both to diversify and modernize their economies.
Domestic Indian Market
India's diversity gives its labor markets the elasticity to rapidly fill demand for new IT workers. Having four of the top 10 biggest universities in the world gives it the infrastructure to rapidly expand the number of computer science and knowledge workers, as it is now doing with an investment fund of $1 billion.
India's diversity makes it an attractive destination for Western firms that might start with outsourcing but then expand into the domestic market, as IBM has done by picking up domestic Indian IT outsourcing contracts reportedly awarded under U.S. labor rates.
U.S. firms are not just going to India to be able to produce for the U.S. market. In many cases they are going there to profit from the domestic Indian market.
Future columns will detail India's competitive advantages in cost, quality and marketing.
---
Anthony Mitchell
, an E-Commerce Times columnist, has beeninvolved with the Indian IT industry since 1987, specializing through
InternationalStaff.net
in offshore process migration, call center program management, turnkey software development and help desk management.
---