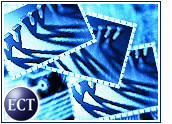 Buoyed by a sharp rise in sales, Internet postage firm Stamps.com (Nasdaq: STMP) said Tuesday it is evaluating a number of revenue-generating measures, including possibly raising its monthly minimum price of US$1.99 for its "simple plan" customers.
Thought by many to be destined for the dot-com graveyard last October when, in the course of two weeks, it lost its original chief executive officer and laid off nearly half of its staff, Stamps.com said that sales during the first quarter of 2001 grew 158 percent compared to the same period a year ago, to US$5.3 million.
At the same time, Stamps.com's quarterly loss shrunk to about $9 million, largely due to two rounds of layoffs. The Santa Monica, California-based company has reduced its workforce from more than 500 to fewer than 200, in addition to lowering marketing costs.
"The initiatives we undertook in the fourth quarter of year 2000 and the first quarter of year 2001 have already begun to pay dividends in our improved gross margins and narrowed losses," Stamps.com CEO Bruce Coleman said. "Moving forward, we plan to continue to streamline our costs while enhancing our revenue growth toward achieving our goal of profitability and positive cash flow."
More Revenue Sought
Stamps.com said it is also considering the use of a paid-for customer support model during the second quarter 2001.
According to the company, savings in sales and marketing have already been achieved through a focus on acquisition of higher revenue "power plan" customers and through renegotiation or termination of fixed payment partner relationships. Starting in the second quarter of 2001, partners will only be compensated on a pay-for-performance basis.
Coleman also said that Stamps.com would start selling stamps over the phone, and that the company has begun building a database of customers and potential customers by requiring visitors to the Stamps.com Web site to register before downloading software.
Taken together with its focus on higher revenue customers, Coleman said, the steps should help the company become profitable by the first quarter of 2002.
Tepid Market Reaction
Stamps.com said it remains comfortable with forecasts for $23 million in sales for all of 2001 and said that it would reduce cash burn for the year by 80 percent over 2000, to between $20 million and $25 million.
In early trading Wednesday, Stamps.com was down a penny to $2.99. The company's 52-week low is $2.21.
Long Road Back
Though Stamps.com debuted with high hopes in August 1998 and its stock flirted with the $100 level in November 1999, the company found the expected appetite for Web postage was slow to materialize.
In October, then-CEO John Payne, president and chief operating officer Loren Smith, chief financial officer John LaValles and comptroller Candelario Andalon all exited the company.
Due to the weak market for Internet postage, Stamps.com's rival eStamp (Nasdaq: ESTM) decided in November to get out of the online postage market altogether and focus on providing shipping and logistics support to e-tailers and others.