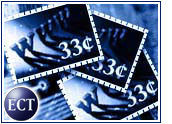 Just one day after the U.S. Postal Rate Commission recommended a 1-cent boost in the price of first-class stamps for traditional mail, Stamps.com said Tuesday it has the commission's endorsement to create a reduced rate for first-class mail sent using Internet postage.
"This recommendation is a huge vote of confidence for the emerging Internet postage category," said Stamps.com consultant and former Assistant Postmaster General for Rates Frank Heselton. "The creation of this new classification is a logical step toward establishing a specific and permanent discount for users of Internet postage."
The Santa Monica, California-based company said it originally pitched its proposal for a four-cent discount on Internet postage to the independent commission earlier this year.
"Significant support exists within the postal community for developing a specific discount for this category," Heselton added.
Cutting Costs and Spurring Acceptance
The decision on whether to adopt the rate reduction now moves to the Governors of the U.S. Postal Service (USPS) for approval. Stamps.com said the targeted discount would be beneficial because it would allow the service to cut costs through the automated processing of mail.
If the plan to develop a special Internet postage category is eventually finalized, the company also said it will represent a cost-savings to users and help spur consumer acceptance.
"A discount should lead to increased customer acquisition by providing a strong incentive to use our service and should result in a growth in usage among our current base," said Stamps.com interim CEO Bruce Coleman.
As part of its recommendations issued Monday, the rate commission rejected a proposal by Pitney Bowes to establish a discount for postage meters.
Internet Postage Slow to Stick
Although postage has been available for purchase via the Web for well over a year, consumers have been slow to adopt the offering.
Last month, Stamps.com slashed its workforce by 40 percent in an attempt to streamline its operations and improve profitability. Chief rival E-Stamp has also run into a wall on the road to profitability.
Some analysts speculate that consumers are simply adapting to the technology's learning curve. Other industry watchers, however, maintain that the demand for stamps may soon be a thing of the past as online bill payment expands.
A recent report by Jupiter Research predicted that by 2005, more than 40 million U.S. households will pay at least part of their bills using Internet bill payment services.
A separate study earlier this year by IDC also forecasted that electronic bill payment and presentment services will generate over US$1 billion in revenue worldwide by 2004, compared to just $32 million last year.